Runt Stun Gun
80,000,000 volt Rechargeable Runt with built-in Recharger, flashlight, and wrist strap disable pin. This is a newly designed unit that over-delivers on power and is more ergonomically correct to hold in your hand. The Runt utilizes a newly developed cutting-edge micro-technology to deliver super powered protection.
Rechargeable Runt Stun Gun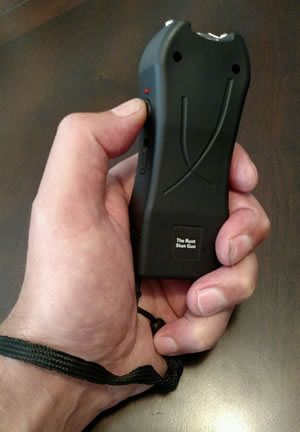 The solid and thick prongs on the top are built to withstand the immense electrical charge and to fully emit all the power it is capable of without loss through resistance.
The retractable plug hides away (slides back) after you charge the stun gun. The standard charge time is 6-8 hours but no more than 8 hours. You charge it overnight, and it's ready for you in the morning.
Depending on use, you only have to charge it about once every 2-3 months. If you don't discharge it, it'll last that long. Of course, the more you use it, the sooner you'll need to give it more juice.
Rechargeable means never needs batteries. The Runt Rechargeable Stun Gun will fire 300-500 times on a full charge. 8-hour initial charge. Test fire monthly. Lifetime warranty.
Top of the Line!
This mini stun gun is easily hidden and fits nicely on your belt with the included holster or inside your purse or handbag for quick and easy access. Comfortable carry in the hands of a man or a woman.
Runt stun guns are perfect for women of all ages, and of course for men as well. Dimensions: 4 ¼" x 1 5/8" x 1"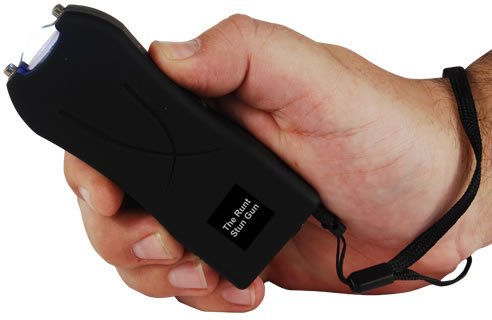 NOW AVAILABLE IN BLACK, PINK, PURPLE, BLUE, and RED!
This is the one to get!
Never Have to Buy Batteries

80,000,000 Volts

Rubberized Coating

4.5 milliamps

Built-in 100 Lumens LED Flashlight

FREE Nylon Belt Loop Holster -- $10.00 value

Life Time Warranty
The higher the voltage, the quicker the effect! (Higher voltage gives more penetrating power. Will go through thicker clothes more efficiently.)
Some states have restrictions on Stun Devices. Check if your state has restrictions here: Shipping Restrictions
Runt Holster in Leatherette is available.
When your life or property is in danger, you usually have no other recourse than to fight back. But for many, physical strength can only do so much and go so far, which is why there are numerous options for self-defense weapons. One of these is the Runt stun gun, a device that's small enough to fit in a purse or a pocket but offers enough power to help prevent an attack and save your life.
The Runt is a product of Stun Master, a brand specializing in self defense gadgets that deliver an electric shock when triggered or applied. It's a small device measuring just 4 ¼" x 1 5/8" x 1". It provides one of the highest power ratings of these types of defensive tools at 80,000,000 volts. The high output is meant to optimize the stun gun's use during an emergency and more than make up for its small size.
The stun gun is often mistaken for a TASER device. While their basic use is similar (they both deliver an electric shock to the target), they differ in how they are used and function. A law enforcement TASER ECD uses a wire and barbs to penetrate the target to deliver the electric shock. The wire through which electricity travels is connected to a triggering device that is held in your hand and can be up to 15 feet away.
A stun gun delivers a shock upon direct physical contact with the tip of the gun. This device works well for close contact encounters and can be advantageous when an attacker is at arm's length. Unlike the TASER weapon, the Runt does not require careful aiming since it will deliver a shock regardless of the area that the tip comes in contact with.
Advantages of the Runt stun gun
There are two very important ways that this can be an advantage during a potentially dangerous situation. One: it can function as a tool to produce psychological intimidation on a would-be attacker. The sight and sound of a stun gun is a warning to any attacker that there is a high possibility that he/she can get hurt. This can discourage them from advancing any further.
Two: in case the person does attack, the Runt can deliver a high output electric shock at close range, effectively causing involuntary muscular contraction and pain on the target site. The shock can also lead to temporary loss of muscle control, disorientation, and even confusion. These reactions are enough to incapacitate an attacker for several minutes. The effects will wear away, but you would already have run away or sought help by then.