My Kitty Self-Defense Keychain
The cat self-defense keychain is an inexpensive addition to any women's self-defense arsenal.
This discrete patent-pending self-defense product can be easily attached to your keys and carried with you almost anywhere. It features black molded plastic, ridged knuckles with pointed cat ears, and delivers devastating strikes.
Cat Keychain Self Defense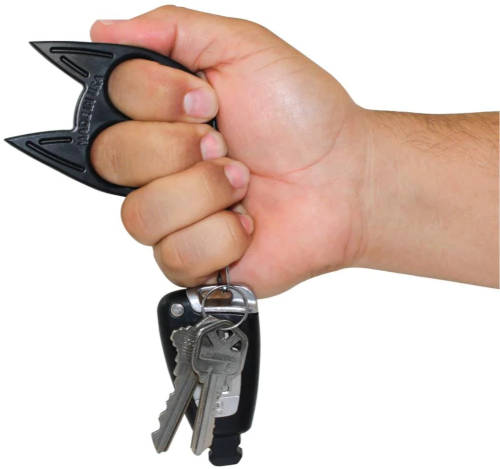 Just slip your fingers through the cat eyes to deliver devastating strikes.
Your fingers loop through the cat keychain eye holes so that the tips of the ears can be used to defend yourself against an attacker. It measures 3.25" x 2.25" and is less than a quarter-inch thick. This self-defense cat keychain is tough and wielding it not only provides you with rigid knuckles, but also two stabbing edges in the form of its ears.
You can attach it to your keys, and it will fit right in your pocket or purse. It's possibly the most concealable self-defense item you can own. It's relatively innocuous and small enough to go into a pocket without hogging space.
And if you[re not a cat person, you can also get this item shaped as a dog; we call it the Brutus Dog Self Defense Keychain.