My Kitty Self-Defense Keychain
Introducing the Purr-fect Self Defense Companion: The Cat Self Defense Keychain!
Are you concerned about your personal safety while walking alone or navigating through unfamiliar places? Do you wish for a discreet yet powerful tool to boost your confidence in any situation? Look no further – the Cat Self Defense Keychain is here to protect you and provide peace of mind like never before!
A Fierce and Adorable Guardian
Our Cat Self Defense Keychain is not your ordinary safety tool; it's a charming accessory that doubles as a powerful defender. Crafted with attention to detail, these defense keychains feature sharp and durable cat ears that will give any potential assailant a big surprise. Carved with strength and precision, these ears are designed to deliver a punch that could discourage any attacker, granting you the precious moments you need to escape and seek help.
Discreet Protection for Everyone
The beauty of our My Kitty Self Defense Keychain lies in its subtlety. Resembling a cute cat charm, it effortlessly blends with your keyring or can be attached to your bag or belt loop. Whether you're a student, a working professional, or an adventurer, this keychain will not draw attention or cause discomfort while being carried. Feel confident and empowered as you go about your day, knowing that you have a reliable companion by your side.
Comfortable and Easy to Use
No complicated instructions or complex mechanisms – our Cat Defense Keychain is designed for simplicity and convenience. The ergonomic grip ensures a comfortable fit in your hand, making it easy to hold firmly when needed. With just a little practice, you'll become proficient in utilizing this unassuming tool to its fullest potential.
Empowerment and Peace of Mind
By choosing our Cat Self Defense Keychain, you are not just purchasing a stylish accessory – you are investing in your personal safety and peace of mind. Imagine strolling confidently through dimly lit parking lots or busy urban streets, knowing that you possess the ability to protect yourself if the need arises. Embrace a new sense of empowerment and assurance as you navigate through life's adventures.
The Perfect Gift for Loved Ones
Looking for a thoughtful gift to show your loved ones that you care about their safety? The Cat Self Defense Keychain makes an ideal present for friends and family of all ages and backgrounds. It's a unique and practical way to express your concern and love while providing them with a tool that can potentially save lives.
Secure Yours Today!
Don't let fear hold you back from enjoying life to the fullest. Embrace confidence and assurance with the Cat Self Defense Keychain – your reliable and adorable guardian that will always be there when you need it most. Click the "Add to Cart" button now and take the first step towards prioritizing your safety and the safety of those you care about.
Remember, you deserve to feel safe and secure in any situation. Choose the Cat Self Defense Keychain and embrace empowerment in the cutest and most effective way possible. Order now and experience the difference it can make in your life!
Cat Keychain Self Defense
The cat self-defense keychain, also known as a cat keychain or kitty keychain, is an inexpensive addition to any women's self-defense arsenal.
This discrete self-defense product can be easily attached to your keys and carried with you almost anywhere. It features black molded plastic, ridged knuckles with pointed cat ears, and delivers devastating knife-like strikes.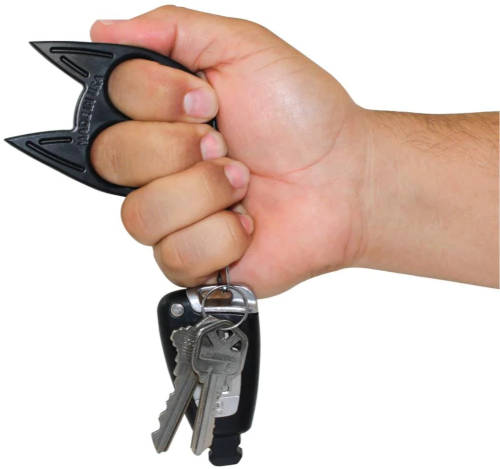 Just slip your fingers through the cat eyes to deliver devastating strikes.
Your fingers loop through the cat keychain eye holes so that the tips of the ears can be used to defend yourself against an attacker. It measures 3.25" x 2.25" and is less than a quarter-inch thick. This self-defense cat keychain is tough, and wielding it not only provides you with rigid knuckles, but also two stabbing edges in the form of its ears.
You can carry it attached to your keys, and it will fit right in your pocket or purse. It's possibly the most concealable self-defense item you can own. It's relatively innocuous and small enough to go into a bag without hogging space.
These kitty keychains come in 6 colors. And if you're not a cat person, you can also get this item shaped like a dog; we call it the Brutus Dog Self Defense Keychain.