20,000,000 volt Rechargeable Runt with built in Recharger, flashlight, and wrist strap disable pin. This is a newly designed unit that over delivers on power and is more ergonomically correct to hold in your hand.
Rechargeable Runt Stun Gun
The solid and thick prongs on the top are built to withstand the immense electrical charge and to fully emit all the power it is capable of without loss through resistance. Retractable plug hides away (slides back) after you charge the stun gun. Standard charge time is 10-12 hours.

Rechargeable means never needs batteries. The Runt Rechargeable Stun Gun will fire 300-500 times on a full charge. 10-12 hour initial charge. Test fire monthly. Life time warranty.
Top of the Line!
This mini stun gun is easily hidden and fits nicely on your belt with the included holster or inside your purse or handbag for quick and easy access. Comfortable carry in the hands of a man or a woman.
This handheld stun gun is perfect for women of all ages, and of course for men as well.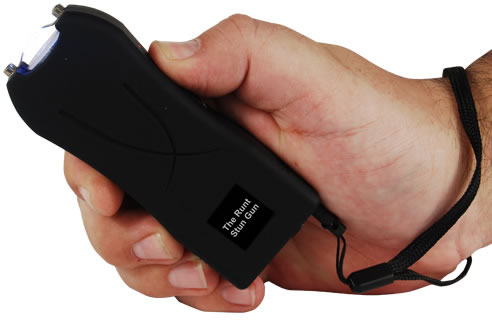 NOW AVAILABLE IN BLACK, PINK, PURPLE, and RED!
This is the one to get!
Never Have to Buy Batteries

20,000,000 Volts

4.5 milliamps

FREE Nylon Holster -- $10.00 value

Life Time Warranty
The higher the voltage, the quicker the effect! (Higher voltage gives more penetrating power. Will go through thicker clothes more efficiently.)
Some states have restrictions on Stun Devices. Check if your state has restrictions here: Shipping Restrictions
Customers Who Purchased This Item Also Bought
Shipping Deal


Receive FREE UPS Ground or US Mail shipping on all orders of $75.00 and up!
*US Residents only
Join Our Mailing List
We send out Specials and Discounts to those on our mailing list.
Your privacy is kept safe.