Monitor Your Child Without Attaching a Leash!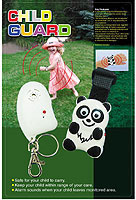 Your worst fear is that your young son or daughter is lured out of the play area by a stranger. You get that sinking feeling, and a pang of fear runs through you. You are anxiously hoping they've only just moved from the jungle gym to the swing set or the monkey bars. With all the other little "toe-heads", or "sandy browns" running around, you finally spot him! Now you can rest easy again.
Unfortunately, sometimes it's still hard to be able to relax on the park bench and finish reading that chapter in your book, or catch up on the latest gossip magazine. It's worrisome making sure your kids are safe. The playground can be crowded, making it difficult to be able keep a good eye on your little ones!
Wouldn't it be great if you could hear a "beep" when they've
gone out of your comfort range?
Resorting to a leash is NO FUN - not for you, and especially not for "little Tommy". Although your intent is ensuring the safety of him, leashing your kid can turn heads and cause whispers. Leashes are for dogs!
How about an "invisible" leash? Something you can attach to your son or daughter, without an actual leash, and sounds a loud beep when he roams out of the set range.
The "electronic child leash" lets you know if your child roams further that you're comfortable with. If the swing set is within range, no worries. But if they head off to the merry-go-round, and its out of range, the child guard monitor lets you know when that happens with a beep.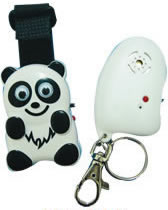 How the Child Guard Works
Worn by the child, the cartoon animal-shaped transmitter sends a constant signal to the receiver, which is held by the adult. The child monitor signal is adjustable - from a distance of 6 to 30 feet, so when the child goes beyond the set distance, the adult's receiver starts to beep, letting them know that the child is starting to wander off.
Frequencies adjust themselves automatically to alert the proper receiver if more than one adult is in the same area using the Child Guard monitoring system.
The Cutting Edge of new microchips produced by SMT® technology, also referred to as the IC unit, is wafer thin and performs with superb accuracy and is incredibly reliable. The IC unit is nicely hidden in a small plastic animal (looks like a toy) and can be concealed very easily under a shirt or jacket if desired.
Simple and easy to use compact wireless design.
Child friendly design - Strategically hidden in a plastic toy looking transmitter.
Has a rotating dial that you can adjust anywhere between 6 and 30 feet.
Transmitter can be attached by buckle, to clothes, or worn as a necklace.
Suitable for indoor and outdoor use.
Lithium batteries included.
Easy to read instructions.
Also used as a car seat alarm!
Customers Who Purchased This Item Also Bought
Shipping Deal


Receive FREE UPS Ground or US Mail shipping on all orders of $75.00 and up!
*US Residents only
Join Our Mailing List
We send out Specials and Discounts to those on our mailing list.
Your privacy is kept safe.