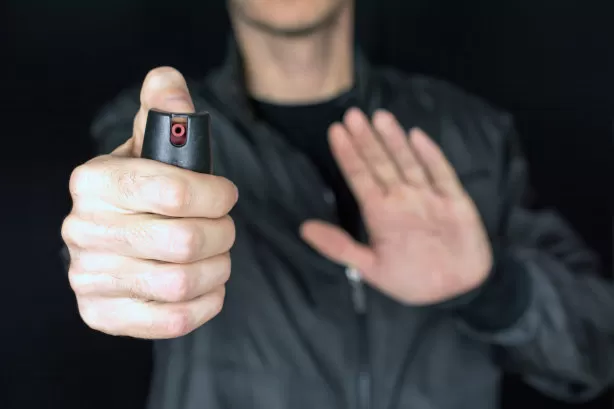 Wasp Spray for Self Defense?
Did you know in the U.S. alone there's one aggravated assault every 34 seconds?
Maybe you do know and that's why you're here... Looking for information on wasp spray vs pepper spray.
There is a lot of information -- and misinformation -- circulating about the use of wasp spray for defense.
We want to clear it up for you.
Read on to learn the differences between wasp spray and pepper spray so you can make an informed decision.
What is Wasp Spray?
Wasp spray is designed to have a fast 'knockdown' time for insects.
Knockdown refers to how quickly a pest will become immobile after getting sprayed. A lot of factors play into this, including:
The size of the droplets

The chemical used

The aim of the person spraying

What the chemical is mixed with
Wasp spray contains a neurotoxin. In fact, most insecticides work by using a neurotoxin to stop bugs in their tracks.
Pyrethroids and pyrethrins, the main ingredients in most wasp sprays, work very fast. They hold open the sodium channels of wasp's nerves to render them immobile.
Because the nerves can't react the wasp is paralyzed.
Pyrethroids are harmless to humans. They can, however, kill other creatures such as fish.
The compound comes from chrysanthemum flowers. It is common any many pesticides and generally harmless to humans.
But be warned! Many wasp sprays contain other ingredients that are highly toxic to humans.
Some of these chemical compounds will have a critical effect on someone's health or even cause death unless treated with an antidote.
Many factors play into this effect, including the ones listed above. But the point is, wasp spray should only be used for its primary purpose: Getting rid of wasps.
What is Pepper Spray?
Pepper spray is also known as capsicum spray. Capsaicin is the chemical compound found in chilis and other plants from the capsicum genus.
The compound has an inflammatory response to humans, including:
Tears

Pain

Swelling

Temporary blindness
It has been chosen for self-defense purposes because it is a less-than-lethal agent. There are extremely rare cases where pepper spray has caused death.
This usually only happens in victims with asthma and is considered exceptional. Normally, pepper spray can be successfully used to reduce a threat while not causing long-term harm.
Pepper spray is used by police officers to reduce threats without resorting to violence. In fact, law enforcement injuries have decreased consistently since the introduction of pepper spray.
Pepper spray is an obvious choice when it comes to personal self-defense weapons.
It is also available for purchase on the market. This makes it a choice for personal self-defense for many people across the country.
Wasp Spray VS Pepper Spray
When it comes to wasp spray vs pepper spray for self-defense, the choice is clear.
Wasp spray:
Has no scientific evidence to support it can stop an attacker.

Is prohibited to be used for any other purpose than what is on the label by federal law.

Can't even be recommended to be used in a way other than what's on the label. To do so is a finable offense.

Has never been tested on humans. The existing toxicity reports have data collected solely from a suicide attempt or accidental exposure incidents.
Basically, wasp spray is for wasps. Any use other than that is illegal and not proven effective.
Pepper sprays, on the other hand:
Are made from natural pepper ingredients. Their compound that creates a reaction, capsaicin, comes from peppers.

Have been tested on humans and are considered less-than-lethal. They've also been proven effective for stopping an aggressive attacker.

Civilian pepper sprays have been shown to sometimes be as strong as police force pepper sprays.

Have decreased violent injuries to police officers in law enforcement since their introduction.

Is legal to carry in all fifty of the United States.

Can be bought legally for self-defense.

Can be used for safety again dogs and bears too, not just humans.
And the majority of pepper sprays on the market are not mixed with any other chemicals that haven't been tested on humans.
Wasp spray, on the other hand, can be mixed with a ton of different things besides the active ingredient. And the active ingredient is a neurotoxin!
While the compound may stop a wasp in its tracks, there is no evidence to show it can stop an attacker.
So it's illegal. And it's potentially ineffective.
The Myth and the Legend
This urban legend has been circulating the internet for a while:
"A can of wasp spray is a great alternative to pepper spray when it comes to self-defense. It's more accurate in its trajectory and has the same debilitating effect.
It can stop an assailant by temporarily blinding them until they make it to the hospital for an antidote."
Another way this is presented online is that so-and-so has a self-defense teacher who taught them this.
Some people even claim they are self-defense teachers and this is what they practice and teach their students.
But the moral of the story is, you can't believe everything you read.
When you really break down a comparison of wasp spray vs pepper spray, the facts show the truth.
And the myth that wasp spray is more accurate? Total bunk.
There are cans of pepper spray on the market that have a range of 20 feet or greater accuracy.
If you use wasp spray instead of pepper spray, you might:
Miss your attacker.

Not stop your attacker.

End up in a legal battle.

Get a hefty fine for using a pesticide in a way other than on the label.

Harm someone permanently.
Protect yourself. Only use pepper spray for self-defense.
Next Steps for Self-Defense
Looking for a great way to defend yourself? Wasp spray isn't the answer.
Now that you've read about wasp spray vs pepper spray, you might be wondering: "What's the best option for self-defense tools?"
Check out these self-defense toolkits that can meet all your needs instead of heading out for a can of wasp spray.
Inside there are tools proven effective to keep you safe.