Police Mace
The Police mace features a heavy-duty, full-body housing most commonly used in law enforcement. This Police model measures approximately 4.625" and is designed for a larger hand. This model features a built-in belt clip and keychain.
Mace Police Model OC Spray - Same size model used by law enforcement personnel. Ideal for auto or home use. Features flip-top safety cap, finger-grip dispenser, belt clip, and key-chain. 18-gram unit sprays 8-12 feet. It contains up to 20 short bursts.

The 10% Peppergard formula contains a 0.66% capsaicinoid concentration. The OC pepper formula creates an intense burning sensation to the skin, eyes, and throat, and causes an attacker's eyes to slam shut upon direct contact. Peppergard also contains an invisible UV dye, which marks the assailant and may aid in identification.
Police Mace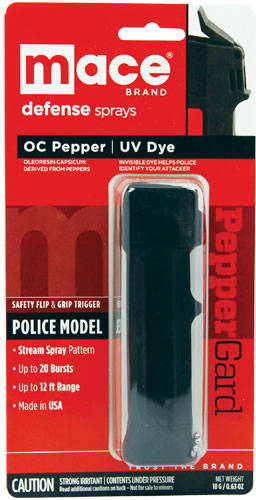 Buying Police Mace
After many years of use by both private citizens and law enforcement agents, pepper spray has proven itself as a highly effective non-lethal weapon for defense and threat deterrence. If you're interested in using pepper spray for your own personal defense, you might be interested in buying the same kind of pepper spray that's used by police officers. Police pepper spray is also often sold and used in larger containers with a more powerful method of dispersal. Ranges are typically longer than with dispensers intended for personal defense.
Local Laws
Although some form of pepper spray is legal for all adults in the United States, there can be sharp limitations on ownership and use which vary from state to state. In New York, for instance, online pepper spray purchases are illegal. Many states have restrictions on the size and chemical content of mace pepper sprays purchased by private citizens; examples include California, Wisconsin, and New Jersey.
Some states have restrictions on Pepper Sprays. Check if your state has restrictions here: Shipping Restrictions