Pepper Gun
The new Mace® Pepper Gun is the most accurate defense pepper spray available. The OC super strength pepper spray formula (.74 Capsaicinoids) is contained in a disposable cartridge that can be replaced when empty.
The cartridge utilizes an advanced delivery system, Bag-In-A-Can™ technology, that allows you to spray a constant stream, reaching up to 20 feet, from any angle!
Pepper Spray Gun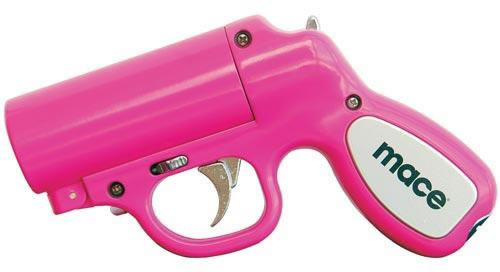 The trigger-activated LED light helps you to accurately aim the Pepper Gun and momentarily distract the attacker in the dark. The pepper gun includes a 28 gram OC Pepper cartridge, a water test cartridge (practice makes perfect), and batteries for LED light operation.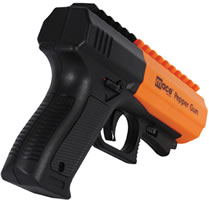 The Orange and Black 2.0 version (item code 80406) sports a DUAL MODE LED light that distracts your attacker and helps aim at your target in the dark.
Engage the trigger once to activate the steady LED flashlight feature. Engage the trigger a second time for the pulsating LED strobe.
Also comes with an OC Pepper Cartridge and a Water Practice Cartridge. Integrated Picatinny rail allows you to attach accessories to your Pepper Gun. (3) x 1.5V AG13/LR44 batteries included.
The Mace® Brand Pepper Gun® 2.0 provides distance defense with convenient point-and-shoot accuracy.  
MACE™ PEPPER GUN uses an advanced delivery system utilizing patented Bag-in-a-Can™ Technology.
This new system allows the mace pepper spray to spray like an aerosol in a continuous fashion from any angle, even when Pepper Gun is held upside down. Sprays 7 blasts up to 20 feet.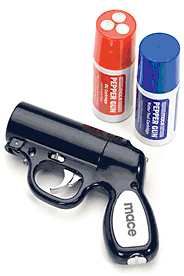 Mace Pepper Gun comes with Pepper Gun dispenser, One 28 gram OC cartridge, One Water test cartridge, and Batteries (for the LED light)
Trigger Activated LED Light


Allows for better aim


Temporarily disorients intruder
Pepper Mace® has a powerful Oleoresin Capsicum (OC) pepper formula that creates an intense burning sensation and causes an attacker's eyes to slam shut upon direct contact. OC pepper is a naturally occurring substance derived from cayenne peppers.
Don't forget the Pepper Spray Gun Refills or a holster!
Some states have restrictions on Pepper Sprays. Check if your state has restrictions here: Shipping Restrictions