Holster for the Mace Pepper Gun
The Mace® Pepper Gun has a nylon holster available. It comes with a belt loop so you can carry on your side. It also features a snap closure so your pepper gun stays secure.
These Holsters are made specifically by MACE for this pepper spray gun, and they fit neatly around your waist belt. Their black coloring makes it match anything you're wearing, and because it's small, it won't look cumbersome or bulky.
Pepper Gun Holster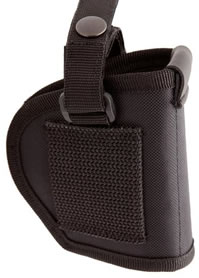 80105 - Nylon Holster
The Mace brand pepper gun is a popular self-defense tool that fires a stream of pepper spray up to 20 feet away. The pepper gun is designed to be easy to use and accurate, making it a popular choice for personal protection.
The pepper gun holster for the Mace brand pepper gun is specifically designed to hold and protect the pepper gun when not in use. The holster is made of durable materials and is designed to fit the pepper gun securely.
The holster has a snap closure that keeps the pepper gun securely in place, yet allows for quick and easy access in case of an emergency. It also has a belt loop that allows you to wear it on your waistband or belt for convenient carry.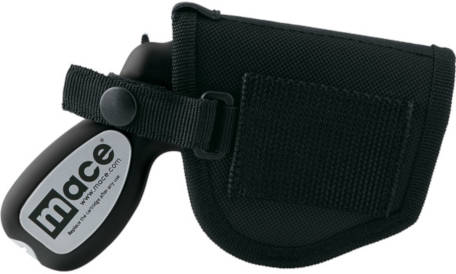 The pepper gun holster is designed to protect it from damage and ensure that it is always ready to use when you need it. It is important to note that the Mace brand pepper gun and its holster should be used only for self-defense and should always be stored and handled with care.
Looking for a different pepper spray holster?