Slider Stun Gun
Probably the smallest electronic self-defense device around,
this one is the one you've been waiting for.
Introducing the SLIDER! The mini stun gun flashlight! The size and appearance of a common flash drive with 40 million volts of criminal crippling stopping power! At 3 ½" x 1" x 1/2", it's compact and stunningly powerful.
The SLIDER is slim and discreet, quick and handy, and drops an attacker to the ground in seconds! Simply slide the thumb-switch forward to release 4.9 milliamps of electricity to make anyone think twice before bothering you. Release the thumb-switch and it retracts with ease.
Complete with LED flashlight, wrist strap, and made from the highest quality aircraft aluminum, the SLIDER is available in 5 colors.
Rechargeable: The SLIDER features a quick charging mini-USB port and can be conveniently charged from most cell phone chargers. Includes charger, charging cord, and wrist strap. It can also use the included wall charger adapter for plugging into a wall outlet.

Mini Stun Gun
The Slider is a mini stun gun that looks like a flash drive and can attach to your keys so you always have it with you. Includes a flashlight yet has 4.9 milliamps of power to deliver a devastating shock against your attacker.
You can use the attached wrist strap or you can remove it and put the Slider on your keyring.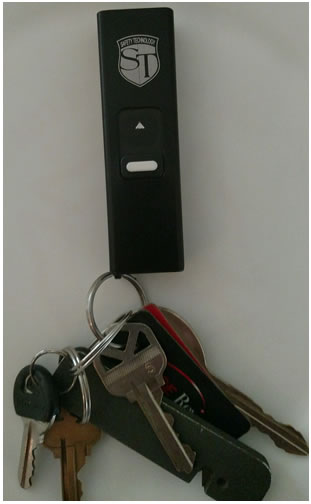 For those wanting the most compact and unidentifiable protection item, this one takes the cake. It delivers an amazing electrical shock unto your opponent and allows you to safely escape and get yourself to safety.
Many people do not want something big and bulky and this model provides the exact opposite of that. Certainly compact and small, but still has the 40 Million volt power rating and the ever-important 4.9 milliamps that give you the armament to stop someone.
OPERATION:
The ON/OFF switch is located on the bottom of the unit. When this is in the off position, it works as a safety. When in the off position, the flashlight and stun will not function. Slide the ON/OFF switch to the on position. This will activate the stun and flashlight feature.
Now you can press the center white button to activate the flashlight. Press the white button again to turn off the light. To activate the stun gun, you will slide and hold the black switch up to the discharge/activate position. Release the switch to deactivate.