Pocket Pepper Spray
Mace Pocket Pepper Spray - Easy aim feature makes this model ideal for emergency use. Compact design and finger grip dispenser fit comfortably in a man or woman's hand. 11-gram unit sprays up to 10 feet. It contains up to 15 short bursts.

Short and compact, this will easily fit in your pocket and be there if you need it. Has enough to stop an attacker while keeping it's profile low key.
Pocket Pepper Spray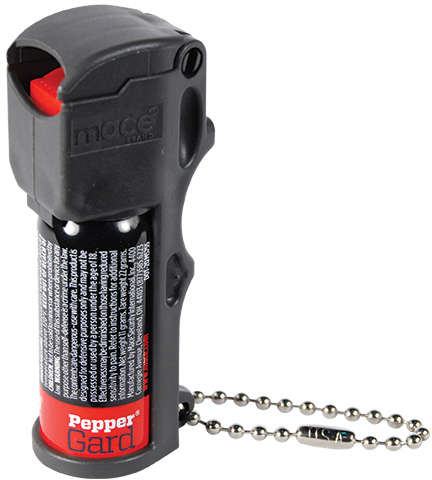 The Mace PepperGard Pocket pepper spray features a flip-top safety cap to prevent accidental discharge, a finger grip dispenser that makes it easy to aim and a keychain. The unit is 11 grams, contains 5 to 15 short bursts and has an effective range of 10 feet.
It contains UV dye used by police to identify the perpetrator.
Some states have restrictions on Pepper Sprays. Check if your state has restrictions here: Shipping Restrictions
---
Perhaps you know what Mace pocket pepper spray is, or maybe you have never heard of it before. Now is your opportunity to learn about its many benefits and why you should carry a can of it with you, especially if you are a woman, an elder or a teen. Unfortunately, society is not as safe as it once was, and your safety must be a priority. Pocket Mace can provide you with a sense of security in dangerous situations.
What is Pocket Mace?
Simply put, it is a chemical that causes the eyes of its victim to tear up and causes intense pain in the area of skin it comes in contact with. It will induce coughing when inhaled and even temporary blindness due to the eyes having to remain tightly closed. Think about times when you may have rubbed your eyes after touching something spicy while cooking. Multiply this feeling by 10 fold and this is what pocket mace spray will do.
Who Benefits?
Technically, everyone. Essentially though, those who may not have the ability to defend themselves as well as others, such as women, the elderly, and teens. You never know when an attacker may attack. Too many times you hear of defenseless women being taken, raped, or even worse. If these persons had something to stop the attacker, the outcome may have been considerably different.
Is it Effective?
First, Pocket Mace is one of the most reliable and advanced self-defense sprays available to you. Secondly, when used correctly, it gives you a minimum of 15 minutes to escape from your attacker and seek help. The best advice? Run and get away. Rest assured your pocket pepper spray will not let you down.
Can I Conceal It?
This is perhaps one of the greatest benefits of pocket pepper spray. You want to be discreet about any type of self-defense product you carry; you do not want a prospective attacker to know you are protected. You can keep this in your pocket, as its name suggests, in your purse or on your keychain. Just make sure the spot you choose is one you can easily reach when you need the protection. An attacker attacks fast - you must be faster.
Is Pocket Pepper Spray Easy to Use?
Yes, very. Most dispensers have a safety cap to prevent accidental discharge, but this only requires a flip of the top to release. The finger grips are typically small and easy to feel, so your job is to aim and fire. Remember, the most important rule is not to hesitate.
Self-defense is one of the most important lessons in life you can learn. Using and owning a can of Mace pocket pepper spray is one of the easiest models you can grasp and hold onto. Your life could depend on it one day; do you really want to take that chance undefended?
Order yours today!