Mace Pocket Keychain Pepper Spray
Looking for a compact yet formidable self-defense solution that you can carry with you wherever you go? Look no further than the Mace Pocket-Sized Pepper Spray! This sleek and discreet keychain accessory is here to revolutionize your personal safety.
Size doesn't compromise strength with the Mace Pocket-Sized Pepper Spray. Don't be fooled by its small stature because when danger strikes, this little guardian angel packs a powerful punch. With a quick flip of the safety cap, unleash a potent stream of OC pepper spray that will incapacitate attackers and give you the precious seconds you need to escape and seek help.
Versatile and convenient, the keychain attachment ensures that your defense is always within reach. Simply attach it to your keys, purse, or backpack, and you'll have peace of mind knowing that your protection is just a moment away. Whether you're walking alone at night, heading to your car in a dimly lit parking lot, or simply want a portable safety companion, the Mace Pocket-Sized Pepper Spray is your trusted ally.
Pocket Pepper Spray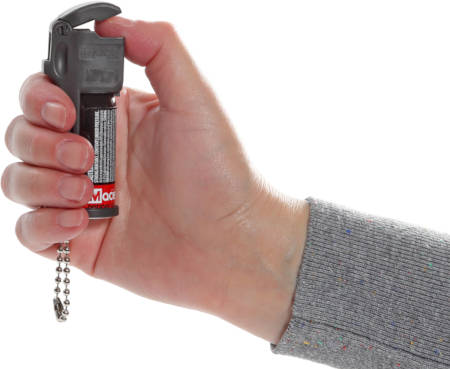 Mace has been a trusted name in personal defense for years, and the Pocket Size Mace Pepper Spray upholds their commitment to quality and reliability. With its maximum-strength formula, this pepper spray will deliver a potent stream, ensuring your assailant will be immediately immobilized, experiencing intense pain, temporary blindness, and respiratory distress.
Don't compromise on your safety when the solution is right at your fingertips. Join countless satisfied customers who have made the smart choice to protect themselves with the Mace Pocket Pepper Spray. Take control of your personal safety today and experience the confidence that comes from being prepared.
Order your Mace Pocket-Sized Pepper Spray now and experience the compact power that defends you wherever you go. Your safety is priceless, and Mace is here to provide you with the peace of mind you deserve.
Features:
Unique flip top design prevents accidental spraying
10 ft range
Small but packs a mighty punch
Made in the USA
The Mace PepperGard Pocket pepper spray features a flip-top safety cap to prevent accidental discharge, a finger grip dispenser that makes it easy to aim and a keychain. Plus, it is 100% TSA/FAA compliant for checked baggage airline travel.
It contains UV dye used by police to identify the perpetrator.
Some states have restrictions on Pepper Sprays. Check if your state has restrictions here: Shipping Restrictions