Key Guard
Unlock Your Confidence with Keyguard Mini Pepper Spray: Your Compact Defender
Are you seeking a reliable and discreet way to enhance your personal safety? Look no further! Introducing the Keyguard Mini Pepper Spray – a powerful and compact solution designed to empower you with the confidence and security you deserve.
Mace Keychain
A hinged safety cap flips open to reveal the actuator button, and an orientation tab allows you to feel when the unit is properly aimed. The Mini is refillable. 
You can safely DEFEND YOURSELF in a threatening situation with the effective power of Mace brand Maximum Strength Formula… 10% OC Pepper. Just spray and get away!

Why Choose the Keyguard Mini Pepper Spray?
Pocket-Sized Powerhouse: Small in size, big on protection. The Keyguard Mace Keychain Pepper Spray is a compact yet potent defender that fits easily in your pocket, purse, or on your keychain. With its discreet design, you'll have instant access to reliable protection whenever you need it.

Police-Grade Strength: Our Keyguard Mini Pepper Spray is formulated with police-strength OC pepper, ensuring maximum stopping power. A quick burst of this potent formula will incapacitate attackers instantly, allowing you to escape potentially dangerous situations.

Ergonomic and Intuitive: Designed for ease of use, the Mini Pepper Spray boasts an ergonomic grip that fits comfortably in your hand. The thumb-operated safety cap ensures swift and precise deployment, giving you peace of mind in critical moments.

Stay in Control: Worried about accidental discharges? Fear not. The Keyguard Mini Pepper Spray's safety cap prevents unintended use, allowing you to carry it confidently without the risk of misfires.

UV Dye for Identification: For added security and post-attack investigation support, the Keyguard Mini Pepper Spray contains invisible UV dye. This unique feature marks attackers, enabling law enforcement to identify them even after they've fled the scene.
Peace of Mind in Your Palm:
The Mace Keychain Pepper Spray puts the power of safety back in your hands. Its compact size and powerful formulation make it an indispensable companion for your daily routine, whether you're walking to your car at night or simply going about your day.
Customer Raves:
"The Keyguard Mini Pepper Spray gives me the confidence to venture out alone. Its compact size means I always have it at the ready." - Emily
"As a college student, I feel safer knowing I have the Keyguard Mini Pepper Spray with me. It's compact, easy to use, and gives me peace of mind." - Alex
Shop with Confidence:
When it comes to personal safety, trust in the best. The Keyguard Mini Pepper Spray offers unparalleled protection, ease of use, and the peace of mind you deserve.
Unlock your confidence today with the Keyguard Mini Pepper Spray. Don't wait for danger to strike; be prepared, be protected. Empower yourself with the compact defender that's always by your side.
Mace Keyguard Mini Pepper Spray
The Mace Keyguard® is a 3-gram unit that contains approximately six short bursts with an effective range of up to 5 feet. It is available in Pink (80811) or Black (80810)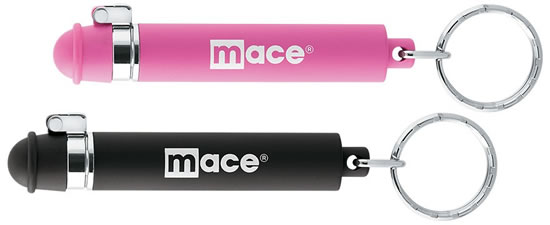 Product Features:
Compact and Portable Design
Police-Grade OC Pepper Formula
Thumb-Operated Safety Cap for Precise Deployment
UV Dye for Post-Attack Identification Support
Your safety matters, and the Keyguard Mini Pepper Spray ensures you're always prepared. Take control of your security and invest in a brighter, safer future. With Keyguard, you're armed with the ultimate tool to navigate life confidently.
We have a large variety of Mace pepper sprays and other small keychain pepper spray products available for you to purchase for your own self defense, most at a price under $25.