Your order is processed and shipped on the very same or next business day. You will receive a tracking number once your order ships letting you track your package on its way to you.
For orders $50 and above
Flat rate of $4.99 - $7.99 otherwise
Most orders ship US Mail
USPS and UPS Deliverabilty
Description
This Mace Key Guard Pepper Spray model is ultra slim making it extremely convenient and portable to carry. It features a keyring ideal for carrying keys so you can always keep it handy when most often needed.
Mace Keychain
A hinged safety cap flips open to reveal the actuator button, and an orientation tab allows you to feel when the unit is properly aimed. The Mini is refillable. 
You can safely DEFEND YOURSELF in a threatening situation with the effective power of Mace brand Maximum Strength Formula… 10% OC Pepper. Just spray and get away!

The Mace Keyguard® is approximately 3" long, the mini design makes it convenient to carry and perfect for you if you are on the go. It includes a key ring that can be easily attached to your house, office, or car keys. 
This mace pepper spray keychain model also features a hinged safety cap that flips open to reveal the actuator button and an orientation tab that allows you to feel when the unit is properly aimed.
Keyguard Mini Pepper Spray
The Mace Keyguard® is a 3-gram unit that contains approximately six short bursts with an effective range of up to 5 feet. It is available in Pink (80811) or Black (80810)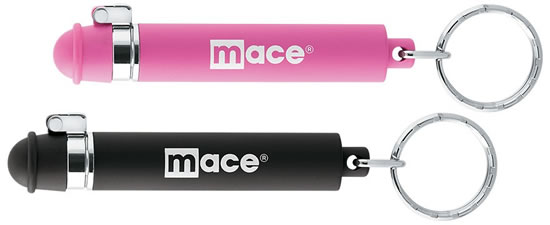 This is a great little security device or tool you can use for protection against someone about to attack you. The "handle" is easy to grip; it fits right in your hand.
You'll have no problem using this concealed weapon of choice to thwart an attack and get away.
We have a large variety of Mace pepper sprays and other small keychain pepper spray products available for you to purchase for your own self defense, most at a price under $25.