Dummy Surveillance Camera
Would you like to improve your home security without paying out a fortune? In that case, you should consider investing in a dummy surveillance camera. This is one of the most cost-effective home security solutions available. Most department and large stores use similar cameras to the fake dome camera. They are not hooked up to any security systems and do not work. But all the same, they are very effective when it comes to deterring crime.
Since this Dummy Surveillance Camera looks like the real thing, no one will ever know it's fake. Even up close it looks like there is a real camera in it. Within minutes, you can mount this to your ceiling using the included mounting bracket.
Dummy Surveillance Camera - Dome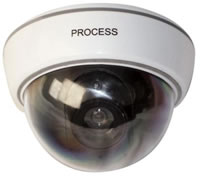 Why spend hundreds on a confusing, hard to install surveillance system, when this inexpensive legitimate piece of hardware can give you the peace of mind you need?
You may never have to worry about theft, vandalism or employees not doing what they are supposed to do ever again.
This dome dummy surveillance camera looks just like the real thing. And it should because it is a real camera housing without the camera electronics inside.
Includes metal mounting bracket. Installs easily using stainless steel screws.
These are great for small business offices, realty offices, gift shops, and the like. They are similar to the real ones you see in large department stores and shopping centers at a fraction of the cost! Try one of these...or even a few!
•DM-WHTCM Dome Dummy Surveillance Camera
Specifications:
- Base measures 5 7/8" across and the dome is 3 1/2" high.
- Requires 3 AAA batteries (not included)
Where to Place a Dummy Surveillance Camera in Your Home 
A potential burglar is not going to know that your fake camera is not hooked to an advanced digital security system. Many systems are monitored remotely today. Burglars are more likely to think you are controlling your home security using an app on your mobile phone. A camera could easily be part of just such a system.
Top places in the home to place a dummy camera include:
Garage

Front porch

Basement

Exterior Buildings
A Dummy Camera in Your Garage
We are all guilty of working in our garages with the door open. For instance, you may be running your car engine and need ventilation. However, you are also likely to store expensive garden equipment and other tools in your garage. All of which are on display to people passing by your garage. Having a Dome dummy camera to deter anyone from peeking in is a good security option.
Other Areas in the Home Which Would Benefit From a Dummy Security Camera
Your front porch is probably one of the most exposed areas of your home. Adding a camera together with a good quality automatic security light is a great way to increase your home security. The light will come on and a potential criminal will spot the camera. He is not likely to want to see his face on film as this makes for good evidence in court.
A basement is also likely to attract the attention of a criminal. Many have windows close to ground level, which makes it easy for someone to both peek in and gain access. Place a dummy surveillance camera in such a way it is easy to see. This may even stop a home invasion.
Exterior buildings of your property should be considered as well. We often leave outside areas of the home more vulnerable than we should. But, the truth is that sheds and workshops are broken into on an everyday basis.
Top Features of the Dummy Dome Camera
Flashing LED light makes it look like the real thing

Proper camera housing

Supplied with metal mounting bracket

Easy to install with stainless steel screws

No need to wire into the mains electricity supply

Battery operated with 2 AA batteries (not included with the kit )

Measures 5 7/8" across the base

Dome height of only 3 1/2" and does not look intrusive
Place your order today to increase your protection from crime in and around your home. At this price, you can't go wrong. To ensure extra protection, why not order several cameras to achieve added security for you and your family? 
This unit contains a flashing red LED light which draws extra attention to the camera, particularly at night. If you do not want to use the flashing light feature, you can remove the battery to prevent the light from flashing.