This professional surveillance dummy camera looks just like the real thing. Real camera housing without the camera.
Features a flashing LED, real video cable, weatherproof aluminum housing, and fully adjustable metal mounting bracket. Installs easily using stainless steel screws.
The professional dummy camera is a brilliant and cost-efficient way to deter theft and damage to property.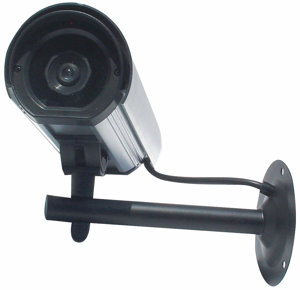 A simple and lightweight dummy camera, this unit features many characteristics of a real security camera. From a false video cord to a working L.E.D., this decoy has the ability to fool any thief.
The L.E.D. in the camera only needs two AA batteries to operate, saving money and giving you a greater piece of mind.
Some full blown systems today are either difficult to operate, or cost a fortune to run. This option is simple to install, relatively cheap, and a good alternative to the real thing.
Weatherproof material keeps the unit safe from the elements, and a fully adjustable mounting bracket (along with using stainless steel screws available at any hardware store) allows you to install the fake cam to your specifications. The unit can be easily placed inside or outside of a building.
Vandals, thieves, and individuals that are a little too inquisitive will certainly think this is the real thing. They won't think twice about hanging around a second longer, nor will they want to come back.
Businesses benefit greatly with these cameras as well. If you speculate that an employee is stealing, or just not spending their "on the clock" time properly, this dummy camera can also deter, if not completely prevent that from happening altogether.
Your household will feel safer, and possibly thwart any possibly break-in once a robber sees it. The crook will be hitting the ground running when he or she spots one or two these phony security cameras.
Parking lots are another ideal place for the professional dummy camera. Reckless driving, car break-ins, and illegal parking are many issues that stores and businesses have to deal with in regards to parking lots. The dummy camera is one way to keep it under control, without giving away its false identity. This is a positive and cost effective counter-measure to these pesky parking lot problems.
Every home, business, and store should have some deterrent to crime. The professional dummy camera is a cheap and reliable way to do just that.
---
Professional Dummy Camera
Deter crime from parking lots or near entrances of a home, store, or business.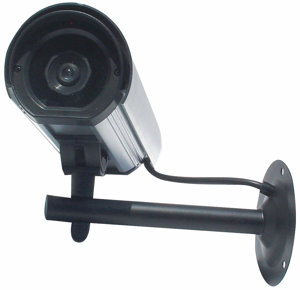 •DM-PROL Professional Dummy Camera w/ LED
Specifications:
- Measures 10 3/4" long (rain shield extends 2 more inches) x 4" round (excluding mounting bracket).
- Operates on 2 "AA" batteries (not included).
Customers Who Purchased This Item Also Bought
Shipping Deal


Receive FREE UPS Ground or US Mail shipping on all orders of $75.00 and up!
*US Residents only
Join Our Mailing List
We send out Specials and Discounts to those on our mailing list.
Your privacy is kept safe.