Ninja Grappling Hook
Need a Grappling Hook to Scale a Wall or Climb a Tree?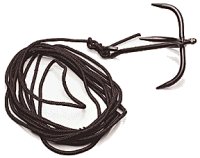 Used by ninjas of ancient times to scale walls, climb trees, and aid in quick escapes. This grappling hook is specially designed to fold flat when not in use.
Heavy duty black finished steel. Compact and easy to carry. Comes with 33 foot nylon rope. A ninja warrior necessity.
The steel hooks grab on and won't let go!
This grappling hook has many other practical uses as well. Military Engineers use a grappling hook to help remove obstacles from a distance, especially when they are suspected of being rigged with explosives.
And as the name suggests, you can throw the grappling hook to an item and drag it back to you. Useful for out of reach or dangerous items.
Ninja Tip - You can tie knots every couple of feet to give you better hand holds while climbing, although this will decrease the length of rope overall. But that doesn't mean you can't change out the rope to add a longer one.
Folds flat when not in use and for carrying. When opened, it is 8 inches across and 9 ½ inches from tip to end.