Stun Gun Sale Today! Order Now and Get 10% off any stunning device!
Plus...Get a Free Pepper Spray with your Order!

---
This keychain digital camera fits on your keys so you'll always be able to take pictures.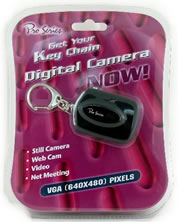 How many times have you heard or said, "I wish I had my camera"? Never again miss an important photo opportunity with our new Pro Series Mini Cam key chain digital camera. This Pro series digital keychain camera is always instantly ready to snap quality digital images without loading cumbersome film or memory cards.
Conveniently and Covertly take snap shots or even a video without anyone knowing what you're doing.
Ideal for attaching to your key chain or keeping in your car for quick access. Since this mini cam can easily fit into the palm of your hand, it makes an ideal investigative tool for capturing digital pictures easily and discretely.
Also takes short video clips and quickly sets up as a "web cam" for video conferencing. Quickly uploads images to your PC via USB cable for storing on your hard drive or printing.
Also included: Photo Express photo editing software CD and USB cable!
Specifications:
8MB Built in SDRAM (memory)
24 bits Color
Hi-Res Mode (VGA) 640 x 480 Pixels
Standard Res Mode (QVGA) 320 x 240 Pixels
Capacity: Up to 105 pictures (Compressed VGA)
25 pictures (VGA 640 x 480)
Up to 410 pictures (Compressed QVGA)
102 Pictures (QVGA 320 x 240)
USB Interface
Photo Express Editing Software CD
1 "AAA" Alkaline Battery
Not compatible with Windows 7 or Vista
Pro Series Mini Key Chain Camera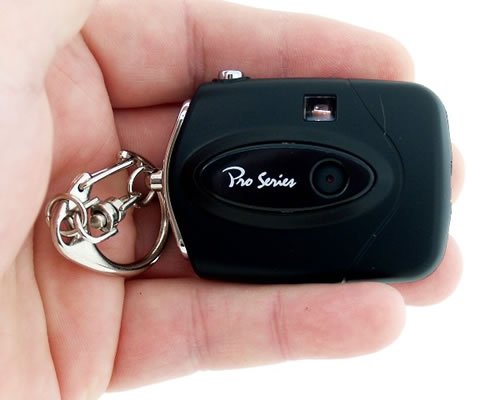 All orders are shipped within 1-2 business days by the method of shipping chosen when checking out. Please read our Shipping Policy for full details.
Be assured that your shopping experience is completely safe. The order site is secured using a SSL Web Server Certificate which encrypts all data to and from the site. You can be assured of the security of your information to buy or purchase with confidence.
Free Shipping


Get FREE Standard Shipping if your order is over $49.00!
*US Residents only