This keychain digital camera fits on your keys so you'll always be able to take pictures or record video and audio.
How many times have you heard or said, "I wish I had my camera"? Never again miss an important photo opportunity with our keychain digital camera. This Pro series digital keychain camera is always instantly ready to snap quality digital images or record high quality video.
You can have loads of fun with this little "spy" gadget, and it could come in handy if there's a problem.
Let's cover the possible problems first; there is an accident, and you have a covert video camera to film any evidence that might be needed at a later time. Or maybe you have someone in a public place, go off on you, on say...the day after Thanksgiving, when some of our fellow humans, act like "animals." Or maybe you or your spouse has a confrontation with a neighbor, and you want "proof" in case the guy flips out on you. Okay, that's enough of that.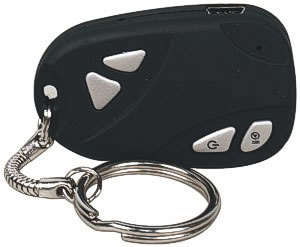 Fun things might include your best friend Stan, having too much to drink at an event, and acting like the "dork of the year." Maybe you are at a Girl's Night Out, turned wild! Maybe you're at a Church Ladies Luncheon, and the same thing happens. Well, that one might not be likely, but IF IT DID, you would have a covert, surveillance camera, to capture all the action!
Keychain Video Camera - Secretly Record!
This beauty looks just like a remote car key FOB but it is really a hidden camera with audio and a built-in mini DVR. Can covertly record up to an hour before you need to recharge the battery. No drivers or outside power source needed. It will also charge-up while plugged into your computer with the included USB cord.
It conveniently holds 8 GB of files which you can watch on practically any media software that supports AVI files. This is over 3 hours of recorded material before you need to delete or download to your computer. Just view the "fun times" on your computer.
Covertly take snap shots or even a video without anyone knowing what you're doing.
Ideal for attaching to your key chain or keeping in your car for quick access. Since this mini cam can easily fit into the palm of your hand, it makes an ideal investigative tool for capturing digital evidence easily and discretely.
Specifications:
Image Sensor: 1/6 color CMOS
Photo Resolution: 640 x 480 pixels
Camera Resolution: 1280 x 960 pixels
Video Format: AVI
Battery: 280mAh 3.7V
Storage Media: Built-in 8GB Flash Memory
Frame Rate: 29 FPS
Dimensions: 2" x 1 1/4" x 3/8"
Includes:
Car Key DVR
USB Cord
User manual
Gift Box
Features:
Motion activated and scheduled recording
Motion Detection Area Masking;
Time and date stamp
Remote Control operation
MPEG4 file format
Composite video outLight indication:
Charge: charging yellow light on, when full light off USB file
Reading and writing: yellow light slow flash
Standby status: yellow light long time on
Card is full: yellow light on even when power is off
Low battery power: yellow light will flash slow
Video Mode - To Enter the video mode when device is turned off press OFF/ON button till yellow light turns on, press(Play/REC) till yellow light will flash three times; now unit is recording video. Press the (Play/REC) to stop Recording. Press and hold OFF/ON to switch off.
Camera Mode - To Enter the camera mode in turned off status press(OFF/ON button) till yellow light on, click (Play/REC) the yellow light will flash one time; now take one photo and again and again. Press and hold OFF/ON to switch off.
Customers Who Purchased This Item Also Bought
Shipping Deal


Receive FREE UPS Ground or US Mail shipping on all orders of $75.00 and up!
*US Residents only
Join Our Mailing List
We send out Specials and Discounts to those on our mailing list.
Your privacy is kept safe.