The Hottie Stun Gun – Pretty in Pink for the Ladies!
It may be pink, it may look girly, it may be small in size, but The Hottie* will knock someone for a loop! Its rubberized coating protects the unit and provides a firm grip.
If someone is going to have the audacity to attack, why not strike back as hard as is possible, with as much force as is technologically available? Just a 3 to 5 second zap from this stun gun extraordinaire, will leave the attacker-turned-loser on the ground, confused and suffering and it will be a miracle if he doesn't pee his pants, too!
The Hottie is a real bargain, because dollar for dollar, no other stun gun will give a gal a better ability to really "take someone down!" Order The Hottie today, and feel more-than-confident tomorrow!
To help this stun gun maintain its maximum power we use superior nickel-metal hydride rechargeable batteries which hold a full charge longer then nickel-cadmium batteries that are used in most stun guns. With the built-in recharging plugs there are no cords to keep up with. You simply plug it into a standard wall outlet. To help prevent overcharging an LED light lets you know when it is fully charged.
It also has a built-in bright LED flashlight. The unit comes with a safety switch to prevent accidental discharge. To prevent the stun gun from being used against you we have included a wrist strap with a disable pin that plugs into the bottom of the unit. If the stun gun is taken away from you this pin will pull out preventing it from working (we also include a disable plug for those who prefer not to use this feature). The disable pin adds an additional safety feature for parents; removing the disable pin prevents a child from accidentally turning the stun gun on if they happen to find the unit.
A stylish, durable holster is included for easy carrying. Dimensions are 3 and one-half inches x two and one-eight inches x seven-eight inches.
"The Hottie" is a compact sized, yet powerful for in her pocket or purse, and is fully rechargeable (cord included). So it never needs batteries. Just plug The Hottie in, and recharge "her" whenever needed. The Hottie also features a 6 light LED flashlight, and The Hottie is one of the most powerful stun devices* on the market today! They won't know what HIT them!
If you want the lady in your life protected to the "max," get her The Hottie!
The Hottie comes with a heavy duty pink holster that has a belt loop for ease of carrying and can be worn just like a pager/cell. The smooth, sleek design and beautiful pink color makes The Hottie look appealing, but there will be nothing appealing to an attacker when he receives The Hottie's electrifying volts of serious and unforgiving stopping power!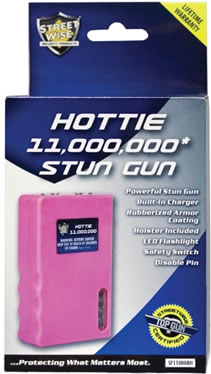 *Voltage is comparable to other brands that claim to be 11,000,000 volts.
Some states have restrictions on Stun Devices. Check if your state has restrictions here: Shipping Restrictions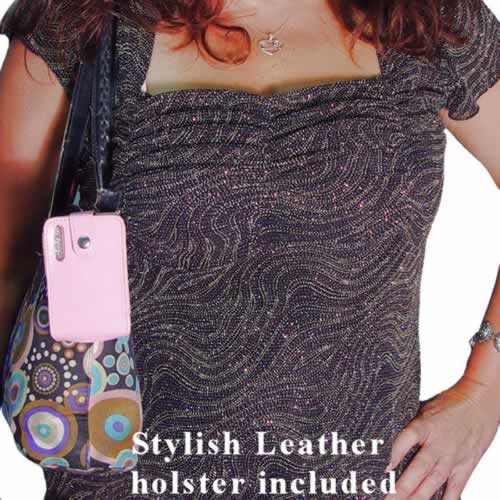 Customers Who Purchased This Item Also Bought
Shipping Deal


Receive FREE UPS Ground or US Mail shipping on all orders of $75.00 and up!
*US Residents only
Join Our Mailing List
We send out Specials and Discounts to those on our mailing list.
Your privacy is kept safe.