Wildfire Keychain Pepper Spray
One of our most popular brands of pepper spray comes in this 1/2 ounce size with a leather holster and includes a keychain attachment. Available in 4 colors: black, blue, red, pink
Wildfire Pepper Spray for your Keychain
WILDFIRE® PEPPER SPRAY is hot! Lab tests have shown this is the hottest self defense spray on the market today.
Wildfire 1/2 oz leatherette holster and Quick Release Key Chain.
The WILDFIRE® PEPPER SPRAY is hot, hot, hot. Major Capsaicinoids are the true heat measure and WildFire has the hottest on the market at 1.4% Major Capsaicinoids.
In addition to causing an attacker pain, The WildFire 10% oleoresin capsicum formula swells the mucous membranes, which makes breathing difficult, and swells the veins in the eyes, causing the eyes to close.
It's made from 2,000,000 SHU's of raw pepper and these effects can last up to 45 minutes and cause no permanent damage. Has a UV identifying dye to help aid in the identification of an attacker.
Wildfire 1/2 oz. Pepper Spray has a range of 6-8 feet and comes with a leatherette holster. Each unit provides 6-10 one-second bursts and comes with a quick key release keychain, and safety lock. 4 ¼" x 1 ½" 
SHU stands for Scoville Heat Units and is used for the Scoville Scale, a measurement system devised by American chemist Wilbur Scoville for gauging the heat levels of pepper. More specifically, it measures the amount of capsaicin in a given pepper or pepper spray product.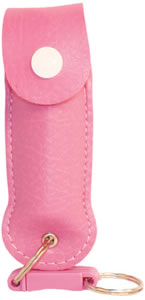 Staying safe is made a bit easier with the pepper spray keychain. Simply attach to your current set of keys. The quick-release allows you to easily remove the pepper spray from your keys if you need to.
You want to stay safe but you don't want to lug around something big and bulky. Yet you also want to be sure that your self defense item is effective and will stop someone.
The Wildfire pepper spray with keychain is the answer because no matter how tough or big someone is, they will not be able to see or breathe once you spray them in the face with this.
Because OC pepper spray is an inflammatory agent and not just an irritant, the eyes, nose, and throat of your target will suffer intense pain. They will want nothing else than to get away and find many gallons of water to put out what feels like a fire.
Also available in a hard case or fashion colors.