Pepper Spray Kit
Pepper Shot 1.2% MC - Tri-Pack pepper spray
This pepper spray kit from Pepper Shot is made with 1.2% Major Capsaicinoids. As a core component of pepper spray, Major Capsaicinoids are the true heat measure and Pepper Shot 1.2% MC is more effective than most other brands.
Pepper Shot pepper spray is an inflammatory agent. In addition to causing an attacker pain, Pepper Shot induces coughing, choking, and nausea. It also swells the mucous membranes, which makes breathing difficult; and dilates the eye capillaries, causing the eyes to close.
All the components of this pepper spray kit are made with 1.2% Major Capsaicinoids.
Pepper Spray Kit - 3 Pack
8.5% oleoresin capsicum formula - Made from 2,000,000 SHU's of raw pepper and these effects can last up to 45 minutes and cause no permanent damage.
Has a UV identifying dye to help aid in the identification of an attacker.
You get total pepper protection with this handy kit of 3 pepper sprays at one low price. A 2 oz pepper spray for home use, a 1/2 ounce auto visor clip to keep in your vehicle, and a 1/2 ounce pepper spray with a quick release keychain.
The 2 oz. stream has a range of 10-12 feet and 10-12 one-second shots.
The 2 1/2 oz units have a range up to 6-8 feet. Contains 6-10 one-second bursts.
All sprays have locking actuators for extra safety.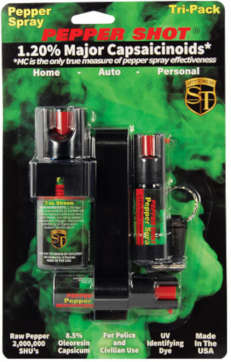 This value pack would be priced at $31.85 if you purchased each item separately. Take advantage of this great deal at 28% off!
A unique collection of our Pepper Shot™ pepper sprays in a kit that gives you the best value. PS-TRI
•2 ounce pepper spray for home use with wall mount. Use the wall mount to place the pepper spray next to your door in case of an emergency.
•1/2 ounce auto visor clip to keep in your vehicle. Slide over your vehicle's visor to have it readily available.
•1/2 ounce pepper spray with a Quick Key Release keychain. To separate keys from your pepper spray, push the button in the center of Quick Key Release, and pull apart.
Some states have restrictions on Pepper Sprays. Check if your state has restrictions here: Shipping Restrictions
The tri-pack pepper spray kit is the item that everyone needs and should have. This versatile pack will be with you in three different places, making it even more effective. Having one on your keychain, in your car, and another in your home or by your bedside will give you that wanted peace of mind during your daily routine.
Value Pack Pepper Spray
Each item contains many great features. They all contain a vegetable dye that aids in identifying an attacker. Each one has locking actuators that prevent the units from being mistakenly fired.
The car visor pepper spray and the keychain pepper spray are ½ ounces. It doesn't sound like much, but when it is sprayed on an attacker, he definitely won't dispute the effectiveness. The 2-ounce pepper spray has a door mount so that it may be placed close to you in case of a home break-in. So, there are three great ways to keep yourself safe on your way out of the store, loading groceries in your car, and when you get home.
This special deal combines effectiveness and value. Wherever you go, you will be prepared, even at home.
All of these pepper sprays cause instant pain to the attacker. The eyes swell shut and the inflammatory agent in the pepper sprays causes terrible coughing fits. An attacker will only be focused on one thing, finding water. He will be in quite a bit of pain for 45 minutes, giving you enough time to get away and find help.
Out of all of the value packages and pepper sprays we sell, this multi-pack is one of our top-selling items.
This is a great gift for a girlfriend, wife, mother, or daughter. The pepper spray kit is a gift worth giving. A loved one's safety is one thing everyone is concerned with, and getting a unique pepper spray kit is well worth it. Hopefully, whoever the owner of this trio of defensive sprays is will never have to use it, but it can help the person feel more secure in an unpredictable world.