TASER Bolt 2
DROP AN ATTACKER TO THE GROUND!
You know the power of a TASER Gun. Police and law enforcement use these all the time and you've probably seen a video or two of how effective they are. No matter how big, or how strong someone is, they can not fight through the overwhelming electrical take-over of their entire body.
The TASER Bolt 2
Once someone is hit with the probes, they immediately are unable to control their muscles. You no longer have to worry about them and can get yourself to safety.

You understand that your personal protection game plan requires true knock out power. You also understand that you could find yourself in legal jeopardy by using deadly force.
Here's why a TASER Device is your best option: Only TASER devices provide the power to knock out a violent attacker for a full 30 seconds from up to 15 feet away. That gives you plenty of time to escape from a dangerous situation without having to resort to deadly force.
The TASER BOLT 2 weapon has a nearly 100% effectiveness rating. It combines the injury reducing benefits of traditional stun technology with a quantum leap in stopping power via new Neuromuscular Incapacitation (NMI) technology.
This Bolt 2 Package has just what you need at an affordable price. It comes with two live cartridges as well as a built-in flashlight and laser sight. As you release the safety, the laser points to where you are aiming. 
This device provides for your safety. Be confident going to or coming from work when you are armed with the best self-defense product available.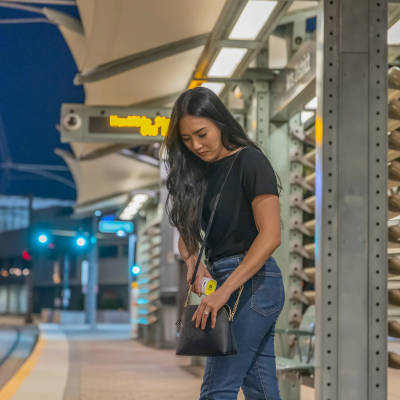 Comes with Laser, LED, and 2ea 15' Live Cartridges. Also includes a practice target.
Key Features
Knock an attacker out of commission and get away safely from up to 15 feet away

Discreet appearance with a light and compact form

Takes 2 CR-123 Batteries (installed)

Use as a close proximity stun-gun backup without the cartridge or after the cartridge is fired

Low-intensity light illuminates for better visibility

High-precision laser for greater accuracy

Companion App: The Bolt 2 safety app adds an extra layer of security on the go, providing backup at the touch of a button or when the TASER Bolt 2 is fired.
Dimensions 6.5" l x 1.6" w x 2.4" h
Weight: 8.4 ounces
The TASER Bolt 2 Provides for your Safety
SAFETY -- This non-lethal weapon can stop a threat up to 15 feet away (4.5 meters), allowing you a safe distance to protect yourself and family from an attacker. If a close quarter defense is warranted, the BOLT 2 doubles as a contact stun device to repel someone as a powerful and unexpected backup capability. (You can use it as a regular stun gun!) This technology has proven itself as a safe and effective choice of self-defense for millions of worldwide users. See 6 Tips for Using a Taser.
EFFECTIVE -- Can be conveniently discharged to work anywhere on the body, unlike other conventional weapons with a specified target area. This makes it a more effective self-defense option by making it easier to stop a threat under an already stressful situation. These devices have been used effectively by law enforcement encounters by over thousands of police agencies within many countries, boasting a 95% + effectiveness rating. The technology provides one of the only non-lethal means of stopping an attacker dead in his tracks, even if under the influence of drugs or alcohol.
RESPONSIBILITY -- Normal law-abiding citizens carrying a BOLT 2 for self-defense purposes have no problem acquiring this highly effective tool. You must be 18 years old to purchase one. The cartridges also have a unique serial number and are equipped with an Anti-Felon Identification system, which discharges 20-30 serialized paper tags when deployed. Law enforcement can later retrieve this confetti from the scene and contact TASER International to get the name of the owner of the device, allowing police to track any potential misuse. 
LIFETIME REPLACEMENT GUARANTEE
If the unit is used in self-defense, it can be deployed and left behind attached to the attacker causing incapacitation while you get to safety. When fired, the self defense weapon will deliver a 30-second energy burst. During this window of opportunity, you can set down the device to keep the attacker incapacitated, while you escape. Send us a copy of the police report documenting the incident and we will replace your unit free of charge.
This guarantee provides that if you have to use this device in a self defense situation and you get a police report of the incident, your unit will be replaced free of charge. If you are there to collect, we are happy you survived and hope you will always survive.
These devices can not be shipped to the following states: Massachusetts, Illinois, Rhode Island, Wisconsin, Michigan, or Hawaii.

TASER® and TASER BOLT 2® are registered trademarks of TASER International, Inc.