Tactical Neck Knife
Having something to cut with at all times is a smart idea. It's one product that is on top of most everyone's EDC (Every Day Carry) items. You never know when you need to open something, cut something, slice something, or have a weapon you can use for last-ditch effort self defense.
Neck Knife
This compact tactical neck knife is small and comes with a sheath that is custom formed to each blade for a safe and secure fit. The sheath is made of nylon fiber. Overall knife measures 4.25" in length.
The lanyard can be used to hang from your neck or attach it to a pack. You can replace the lanyard with a longer cord if you choose.
Skeletonized handle with lanyard hole on the tang. Grenade pattern on the grip. Thumb guards on both sides of the blade.
Great for backpacking and bushcraft, this small knife will do the job.
These small blades can be worn as a neck knife ensuring you have a cutting tool with you at all times. It's quickly available for you to grab and employ if ever a need arises.
While you won't be able to go through a security scanner with it, you will be able to conceal your blade so it's not out in the open. No sense in telegraphing your capabilities to everyone. With such a small length, a fixed blade neck knife like this is legal just about everywhere since it is below the threshold of most state laws governing size.
A large thumbhole is also included within the full tang blade for easy gripping. The stainless steel handle is a short and simple grenade design with a lanyard hole.
Fixed Blade Knife
4.25" Overall

Stainless Steel

Pattern Colored Blade

Grenade Style Handle

Includes Nylon Fiber Sheath, Pocket Clip And Ball Chain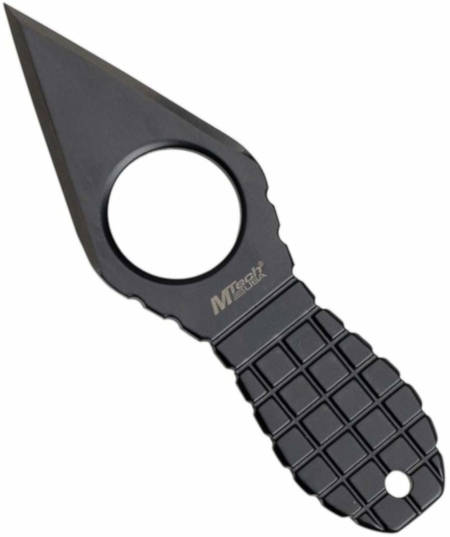 Neck Knife with Sheath