Slingshot Ammo
Aerodynamic ammo flies straighter and further that an irregular item such as a rock. Suitable for both hunting and target shooting, this steel shot is perfectly shaped, giving you an easy grip for a smooth pull back to your shooting position with much less hand strain.
Steel Shot Slingshot Ammo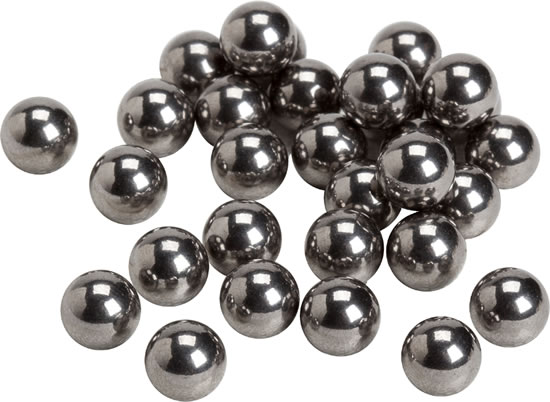 Slingshot Bullets - Steelie Shot - 30 balls per pack
Prolong the life of your slingshot band with this specially selected steel ammunition. Not too small and not too large, this ammunition is designed to provide a good balance. Larger ammunition is unwieldy and can be unsafe, while "bullets" smaller than 1/4" can tear up your bands.
Measuring 3/8" in diameter, this Grade A ammo is perfect for your wrist-braced slingshot. Unlike cheaper Grade B ammunition which often has flat spots, this premium ammo is perfectly round for better accuracy.  
Specifications:
Diameter: 3/8 Inch

Material: Solid Steel

Count: 30 Pieces 
Probably one of the topmost concerns of shooters in terms of technical issues is aerodynamics.  No pistol, shotgun, or rifle has yet been invented that can propel ammunition with enough force to allow it to travel a straight line.  Eventually, air friction and gravity take over (albeit gradually), causing the bullet to travel a slightly curved path until it finally reaches the target.  This is why, without aerodynamic ammo, a shooter would have to make considerable adjustments during sighting in order to hit the target more accurately.
Understanding aerodynamics - This is what governs nearly anything that is propelled with insufficient force within the planet's atmosphere. It's also referred to as 'drag', or the force that produces a retarding effect on an object that is propelled through the air, such as a bullet or some other form of ammunition.  The bullet will travel as a projectile and if there are no obstacles in its path, it will simply, at some point, hit the ground.
For most objects, including slingshot bullets, it is a combination of innate properties that cause the laws of aerodynamics to eventually take over.  These properties include size, mass, and shape.  The challenge in the past was to create ammo that was more efficient, capable of traveling through the air, and maintaining its height and direction longer.
With research and highly improved manufacturing practices, better designs have emerged, resulting in highly efficient products that are more reliable and precise.  After all, ammunition that stays true to its target makes you a better shooter.  Fortunately, we can now rely on this aerodynamic metal slingshot ammo to do half the job for us.
What makes aerodynamic ammo? - A good example of understanding what aerodynamic ammo is and how it performs is a comparative look at BBs or BB shots and pellets. 
BBs, usually manufactured with steel, are spherical. As a result, they have poor flying properties, which in turn make them a little on the inaccurate side over a longer distance. While they can be spot on for close to medium range targets, the longer it flies, the more the shot will be affected by external forces.
Pellets, on the other hand, have taken a different shape.  They now boast of pointed, flat, round, or hollow tips that taper gradually and flare out to its fullest diameter size.  As a result of their design, pellets are centered, keeping friction to a minimum. This allows them to travel in a straighter line for longer distances.
The same principle also applies to bullets used in rifles, handguns, and high-powered pistols.  The goal of the ammunition's shape, form, and weight is to optimize firepower while ensuring the accuracy of the shot.
Buy your slingshot ammo or "bullets" here. Order now!