Night Defender Pepper Gel with Built in Light
This Ultimate Pepper Gel Formula surpasses regular pepper sprays by delivering extreme stopping power in a sticky gel that blindfolds an attacker. With reduced blowback from wind, the gel stream will go exactly where you aim it. This is a powerful defensive OC spray that will halt an attacker's advance immediately.
PEPPER GEL NIGHT DEFENDER has a built-in bright LED Light (33 lux at 1m). Having a light allows for better aim while you temporarily blind your attacker. The light will activate when the cap is lifted. As you hold the unit in the ready to fire position with your thumb placed on the actuator, the LED light illuminates the area.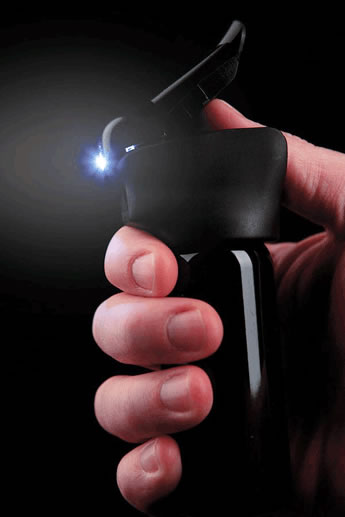 This model is great for indoors or outdoors at night, or areas with low-light. It contains 45 grams and sprays up to 10 to 20 short bursts with an effective range of up to 18 feet.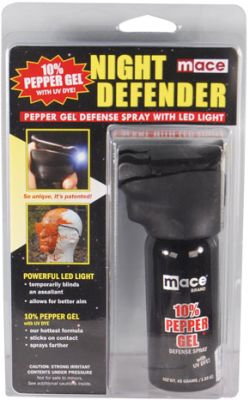 Dimensions 4 3/4" x 1 1/2" x 2 1/4"

Taking a leisurely walk, especially at night, can be somewhat cumbersome and a bit unnerving…so where is the leisure in that? As easy as just wanting to take a nice stroll may sound, for some, it takes some preparation as you can find yourself in unpredictable situations.
Pepper Gel Night Defender
So, let's think of what one should bring. You might carry a flashlight, a water bottle, and even let your dog tag along. Then, of course, you definitely need something with which to defend yourself. We were only blessed with two hands, having to carry all these things can be a bit awkward.
The perfect product to help reduce the number of items one should take along, and offer a sense of security, is the Night Defender. This is a bright LED light and a pepper gel in one. You can spray a potential attacker from up to 18 feet away. The bright LED light can act as an aiming mechanism. Once you have sprayed the attacker, the gel sticks to their face and they cannot wipe it off. This will allow for plenty of time to get away.
The Night defender can also be used in your home. For example, someone breaks into your house and cuts the power. You have the Night Defender's flashlight to see, and the pepper spray gel to aim and spray at the would-be robber.
Some states have restrictions on Pepper Sprays. Check if your state has restrictions here: Shipping Restrictions