Pink Mace Pepper Spray
Pink just got hotter with Hot Pink Mace Defense Spray!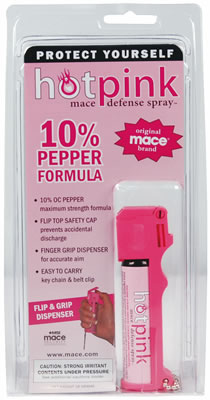 Even when it comes to personal protection, girls want to look good and be in fashion. Now, you don't have to settle for a bland color that doesn't match anything. Spice it up!
A Personal Model now available in Hot Pink.
The convenient size makes it ideal to store in a purse or carry while walking or running.
Hot Pink Pepper Spray
Fashionable 10% Mace Brand pink pepper spray.
Features flip-top safety cap, finger grip dispenser (for accurate aim) and key chain and belt clip (makes it easy to carry).
The 10% (1.4% capsaicinoids concentration) pepper spray formula is one of our hottest. These pepper sprays contain oleoresin capsicum – a naturally occurring substance derived from cayenne peppers.
The OC pepper formula creates an intense burning sensation to the skin, eyes, and throat, and causes an attacker's eyes to slam shut upon direct contact. Hot Pink Mace Defense Spray also contains an invisible UV dye, which marks the assailant and may aid in identification.
This personal model features a key chain and belt clip so it's easy to carry. The flip-top helps prevent accidental spraying!
18-gram unit sprays 8-12 feet.
Contains 10 one-second bursts.
Some states have restrictions on Pepper Sprays. Check if your state has restrictions here: Shipping Restrictions
The product is perfect for women who like to walk, run and exercise outside. As it is small in size, it easily fits into a bag, and you can slip into the glove compartment of your car. Looking at the product it is easier to relate to than other products.
Although it is popular with women everywhere, it is a particularly useful product for women emergency workers. Also, ladies who work late at night in drugstores and all night food outlets find that this model is perfect for them.
Women have disregarded their personal safety for long enough. Finally, there are products available which serve their needs. There is little wonder why women choose personal models such as the Pink Pepper Spray. It is great for ladies who have to walk to their cars after a late night shift.
This is one of the best self-defense products that have been produced and tailored just for you. You really should not be looking for an excuse not to buy this product. You should be asking yourself why you have not bought one yet. No special skills are required. Place your order today for fast and efficient delivery.