Knife Pen
Easily Concealable Ink Pen Hidden Knife
The sharp little penknife can serve as a letter opener, box cutter, or self-defense item. Another great feature is the hidden knife pen actually works! You can use this ink pen in front of people, and they won't know its secret.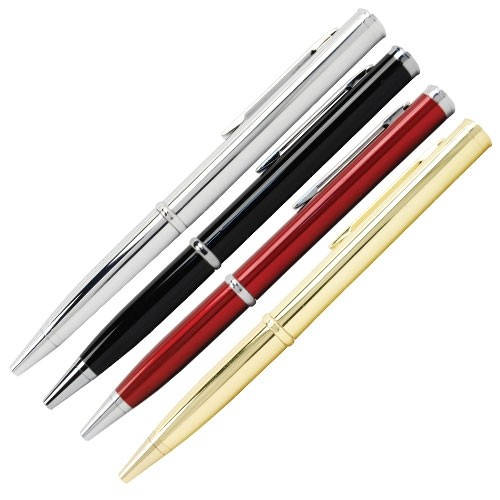 The lightweight ink pen doesn't get in the way and is small enough to be taken with you on a trip to the store or on your way to work. In no way is it heavy or too large to carry and is a great EDC (Every Day Carry) pen.
It's great for self defense, but also comes in handy as a regular writing pen.
There is nothing difficult about the operation of this pen knife. It is easy to use as a pen and as a knife. The top is simple to pull off, revealing the blade, but safe enough to carry without accidentally hurting yourself.
You just pull apart the two ends, and the business end will be revealed. Its sturdy design prevents the penknife from being easily broken as well.
These letter openers are actual pens that could save your life. They look like ordinary writing instruments but feature a 2.13-inch blade that is revealed by pulling the two halves apart. The color options are Black, Silver, Gold, or Red
Hidden Pen Knives in Four Colors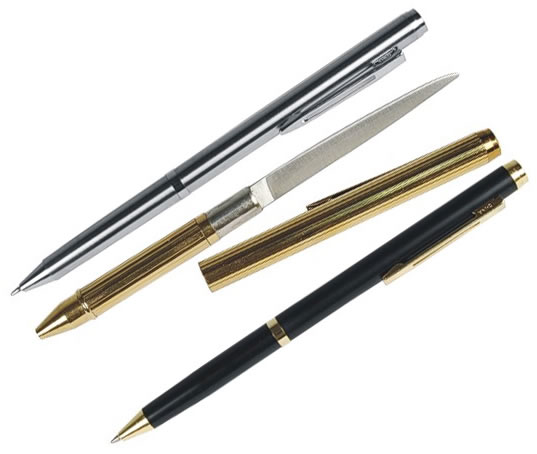 They are easily concealed so you can take them with you just about anywhere. No one will think that this expensive-looking writing instrument actually contains a hidden blade that can be unsheathed very quickly.
Nice looking and writes nice too! Keep one of these writing pen knives in your shirt pocket and keep another one in your binder so you'll always be prepared.
Read about What is a Pen Knife? on our Blog.
Get one for yourself and get another for a nifty gift item for a co-worker or even a relative. Order now.