Master Blaster 95,000,000 Stun Gun
The Master Blaster is a powerful stun gun with 4.9 milliamps of takedown power. It measures 6.5 inches long, so it will fit in larger hands. But it's also small enough to take with you wherever you go. The electrical discharge that's emitted from this device is scary loud and a powerful defense against any unfortunate bad guys.
Master Blaster Stun Device
The Master Blaster is an old-school-looking self defense weapon that has all the modern technological advances. Long lasting battery for multiple uses, a flashlight to light up your way, and internal heavy-duty electronics to keep your stun gun in service for a very long time.
The finger-grooved handle is made to fit your hand and fingers, and the rubber coating ensures you'll have a good grip. You'll love the feel of this beast in your hand. The easy access on/off switch and activation button are right there where they should be, so you won't be fumbling around when time really matters.
Carry this beast with confidence as you go about your daily life. You can ensure your own safety and security by keeping this weapon on your side. It will be immediately available for you to fend off an attack and protect yourself and your belongings.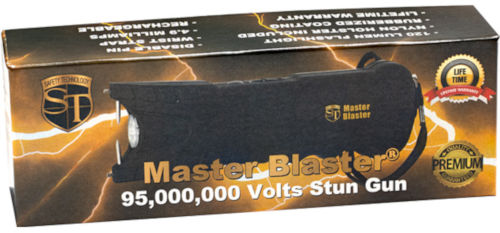 Master Blaster Features:
Designed for Protection and Portability: Long enough to keep you a safe distance from an attacker but small enough to fit in a purse, backpack, or the included holster with a belt loop.
Powerful Stun Gun: Just test firing this unit into the air is often enough to stop an attacker. As the bright electric current pulsates across the top, it creates an intimidating electrical sound. An attacker with any sense will be stopped in his tracks. If the sight and sound don't stop him, a jolt from this unit certainly will.
Bright LED Flashlight: The LED flashlight provides a convenient source of light whenever you need it and eliminates the need to carry a heavy, bulky flashlight.
Disable Pin: Prevents an attacker from taking the stun gun away and using it against you. A lanyard worn around your wrist attaches to a disable pin on the bottom of the unit. If the stun gun is taken from you, the pin will be pulled out, preventing it from working.
Safety Switch: To prevent accidental discharge, three levels of safety have been built in: the disable pin must be inserted, the safety switch must be in the on position, and the stun activation button must be pressed before the stun gun will operate.
Rubberized Armor Coating: Protects the unit and ensures a firm grip.
Lifetime Warranty: The Master Blaster 95,000,000 is made of the highest quality components and comes with a lifetime warranty.