Mace Pepper Spray Personal Model
Mace Triple Action is a personal safety device that can be used to defend yourself against an attacker. It is a pepper spray, tear gas, and UV dye all in one. It is small and easily carried, so you can take it with you wherever you go. The UV dye in Mace Triple Action helps law enforcement identify an attacker later on.
Mace pepper spray is legal in most states. It is non-lethal but causes temporary blindness, difficulty breathing, and intense burning sensations. In other words, it is effective. The 3-in-1 formula includes tear gas that causes profuse tearing in their eyes, shortness of breath, and even disorientation.
Mace Brand Triple Action Pepper Spray
We certainly don't want you to be paranoid or to be scared of going outside, but we do want you to be prepared to take care of yourself if something happens. A can of police pepper spray weighs hardly anything and won't slow you down. But it can be your best self-defense friend if you get attacked by some pervert or mugger trying to take advantage of you.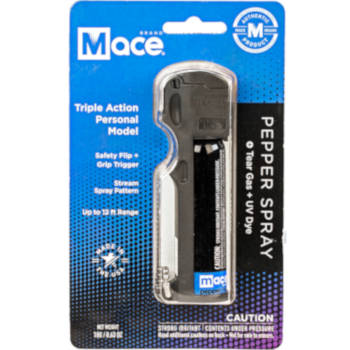 Triple Action Pocket Pepper Spray is ready when it matters. Just place your thumb under the flip-top safety cap and press down on the actuator button to spray.
Features:
A potent combination of pepper spray, tear gas and UV marking dye
Flip-top safety cap to prevent accidental discharge
Finger-grip dispenser for best targeting accuracy
Includes a built-in keychain for fast and easy access
18-gram unit sprays 8-12 feet.
Made in the USA
Contains 20 short blasts or 10 one-second bursts. Item 80841

Some states have restrictions on Pepper Sprays. Check if your state has restrictions here: Shipping Restrictions.
Perfect for Police or Law Enforcement Officers, Military personnel, Security Guards, and especially for civilians to use for their own personal protection.