Brutus Self Defense Keychain
When your life is in danger, use whatever means necessary to protect yourself - including the Brutus Self Defense Keychain!
Brutus the bulldog keychain knife is made of tough, durable plastic. It will not slip through your fingers because it has a grip base that fits snuggly under the fingers when a fist is made, allowing for a tight hold that won't slip through your hand. The pointed "ears" rest on top of the fingers. Because of this design, it is longer than a key and will inflict much more pain to an attacker.
Dog Self Defense Keychain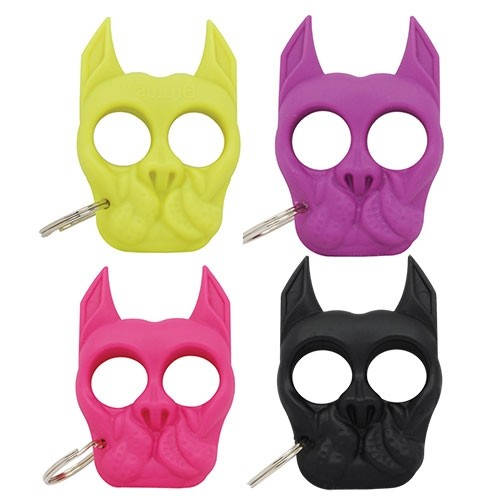 The beauty of the dog keychain is that it won't set off a metal detector. It can quietly and conveniently go with you almost anywhere. This is a jabbing weapon you hold between your fingers.
Brutus is the only public safety bulldog keychain accessory that can be attached to keys or easily stowed away. Made of impact-resistant ABS plastic, this keychain accessory is so strong it will give you the power of steel wrapped in a defenseless-looking dog-shaped keychain accessory.
Guard yourself against unwanted advances: put your fingers through the eyes of Brutus and watch the tips of his ears transform into pointed jabbers that will keep any attacker at bay.
Available in several different colors. You can protect yourself in black, pink, purple, and neon yellow.
Make Brutus your own personal guard dog today!
Product Features
Fits on Keyring - Stylish Accessory

Great Detailed Design

Eyeholes Fit Most Fingers

ABS Plastic - Impact Resistant Material

As Strong as Metal
Remember how the self defense experts used to tell you to place your keys between your fingers and punch?
The problem with regular keys is that they may not be quite long enough, especially depending on the size of your hand. The keys could slip and you may wind up hurting yourself instead of the person trying to attack you.
Now there is something much better and more effective. Attach this fist knife to your keyring and use it the same as you would with your keys - slip your fingers through and punch!