Jolt Tactical Stun Flashlight 93,000,000
One of our newest stun gun models from the Jolt line, this beast of a self defense product is our new favorite when it comes to style, uniqueness, and ultimate power. Its bold design is matched only by its immense power output which comes to the dismay of any potential attacker.
Jolt Stun Gun Flashlight
This Jolt Tactical Stun Flashlight 93,000,000 is as tough as you are. The military-grade aluminum alloy stun flashlight is encased in a striped, protective rubber casing. This not only improves its look and durability but increases your grip on this unique model.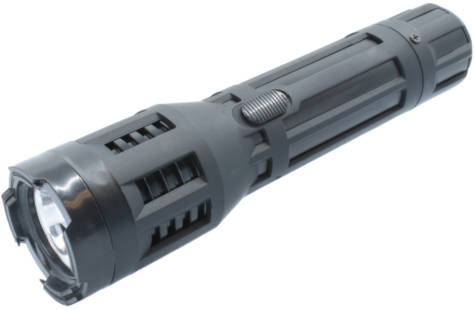 The metal clip allows you to carry it with you on your belt or you can clip it to your purse so you always know right where it is in the event that you have to access it quickly.
Features:
Powerful electric charge

Military-grade aluminum

Heavy-duty belt clip

Three light modes

Rechargeable
Contents:
Jolt Tactical Stun Flashlight 93,000,000

Micro USB Cord

Instructions

Package Dimensions: 7.75 x 3.25 x 1.75 (LWH)
Easy to Hold Stun Gun Styling
This tactical stun flashlight sports a premium grip that you will immediately appreciate as one of the most comfortable stun guns you have ever held on to. The softer rubberized gripping along the handle ensures a non-slip surface that will stay in your hand. An easy to find (even without looking) trigger switch is perfectly placed for your thumb to turn on and off without an extra thought.
Tactical Stun Flashlight
A bright flashlight lights up your way while keeping your stun gun capability concealed until you're ready to use it. Use this for illuminating your way when going to or from a dark parking lot, garage, or even to help open your front door. Being seen is not what the bad guy wants. With one of these power horses in your hand, you will be well equipped to fend off an attack. Get yours today!