Pepper Spray for Runners
Elevate Your Safety While Staying Active with the Mace Sports Model!
Calling all runners, joggers, and walkers! Experience a new level of personal safety and freedom with the Mace Sports Model. Designed with your active lifestyle in mind, this cutting-edge pepper spray is the ultimate companion for your outdoor adventures.
Finally! A Pepper Spray for Runners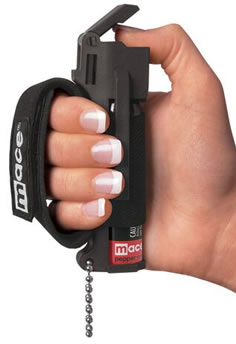 Say goodbye to bulky and inconvenient pepper spray holders. The Mace Jogger Pepper Spray features a secure Velcro-like strap that comfortably fastens around your hand or wrist, ensuring it stays in place during your entire workout. No more fumbling in your pockets or worrying about it falling off – with Mace Sports Model, your defense is always at your fingertips.
Available in sleek Black or vibrant Pink, this stylish accessory not only complements your active wear but also empowers you with confidence and peace of mind. Don't let fear hold you back; reclaim your freedom and enjoy your favorite activities with added protection.
Safety meets innovation with this Pepper Spray for Runners. The powerful pepper spray formula provides maximum stopping power, instantly incapacitating potential threats and giving you the critical seconds you need to escape. Be prepared to face any situation head-on and protect yourself effectively.
Join countless satisfied customers who trust Mace for their personal defense needs. With a solid reputation for excellence and reliability, Mace Sports Model lives up to the highest standards in self-defense technology.
Choose this jogging pepper spray and take your safety to the next level. Don't settle for anything less than the best when it comes to your well-being. Whether you're an avid runner, dedicated jogger, or leisurely walker, Mace Sports Model is the ultimate safety solution for your active lifestyle.
Order yours today and experience the difference firsthand. Empower yourself, embrace your freedom, and run with confidence – Mace Sports Model has your back every step of the way. Your safety is our priority, and Mace is here to protect what matters most – you.
MACE™ JOGGER for those on the run!
The JOGGER PEPPER SPRAY model is ideal for sports and outdoor activities such as running or hiking. You can carry it on your keychain, fasten it with the belt clip or have it on hand with the Velcro-like strap.
When you're out running, you're really not thinking about a guy in the bushes waiting for you to pass by. No, you're focused on keeping your pace, what's for dinner tonight, and was Sally really talking about you behind your back?
Exercising gives your mind the freedom to wander, put things in perspective, and usually if something was bothering you, to know exactly how to deal with it after your jog. It's a mind cleanser. For many, this is your alone time and you aren't thinking about your safety.
Features and Benefits:
12 ft range
Includes both a handy Velcro strap and keychain
Flip top safety prevents accidental discharge
Ideal for runners, hikers and outdoor enthusiasts
Made in the USA.
Runner Pepper Spray
With this powerful self-defense spray, you don't even have to keep track of holding onto it because there's a Velcro-like strap that lets you attach and forget.
The Pepper Spray For Runners model contains 18 grams of pepper spray (2% oleoresin capsicum), enough for ten to twenty short bursts, with an effective range of up to 12 feet. The unit features a flip-top safety cap to prevent accidental discharge.
• Effects: Upon direct contact with the eyes, respiratory system, and mucous membranes, the active ingredients in the pepper spray will cause the eyes to slam shut, coughing, and an intense burning sensation on the skin. Effects should lessen in approximately 45 minutes.
• Safety: Strong Irritant. Keep out of reach of children. Contents under pressure. Do not puncture or incinerate. Upon exposure, follow the first aid instructions that were included with your pepper spray.
• Storage: Store your Jogger Spray in a cool dry area away from heat, flame, or strong light. Use with adequate ventilation. Do not store it in an environment where the temperature may exceed 120 degrees F (50 degrees C) such as an enclosed vehicle. The Pepper Spray cartridge may leak from over pressurization and fail to function properly. Do not store the unit in a cold environment under 32 degrees F (0 degrees C). This may cause depressurization and the loss of effective range.
• Expiration: Pepper spray has a shelf life of 4 years from the date of manufacture. Each pepper spray unit is labeled with an expiration date. After this date, the pepper spray cartridge should be disposed of in accordance with the environmental regulations in your area.
Some states have restrictions on Pepper Sprays. Check if your state has restrictions here: Shipping Restrictions
Check out other jogging self defense options in our Blog Post: Self Defense for Runners.