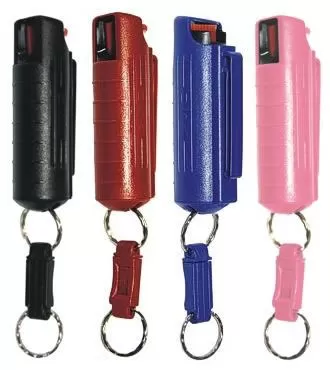 Is Pepper Spray Legal in California?
As someone who lives in the great state of California, you may be wondering if pepper spray is something you are allowed to carry. And the quick answer is:
Yes, it is. A citizen of the state of California is allowed to carry pepper sprays without any license or permit.  There are, however, a few caveats.
Pepper Spray in California Restrictions
The purpose of having the pepper spray must strictly be for self defense reasons.
The canister of pepper spray must not be more than 2.5 ounces in total net weight of aerosol spray.
The canister must have the following on it's label: "WARNING: The use of this substance or device for any purpose other than self defense is a crime under the law. The contents are dangerous–use with care." Since manufacturers know this, this is something they already do.
You also can't be addicted to any narcotic drug or have been convicted of a felony or crime involving an assault.

That's about it for pepper spray laws in California. So, if you are a regular person looking to better protect yourself with the use of pepper spray, you are certainly entitled to exercising that right.
Just be sure to know it's only for self defense. That's why you are researching anyway, right?
It has to be a small can, just not more than 2.5 ounces or 70.87 grams. This size is more than enough to counter against an assailant or even multiple attackers.
Labeling – The manufacturers already know these laws and comply with all the packaging requirements.
And as long as you're not strung out on some kind of drug or are a felon, you're good to go.
Everyone should have some form of protection on them and pepper spray is a powerful, effective, and LEGAL way for you to do this.
You can read through all the official legalese on the State of California DOJ website here.