Infrared Motion Sensor
The Mini Alert Motion Detector Alarm uses passive infrared technology to protect a room from intruders. Producing an invisible triangle, the PIR Sensor creates an unseen barrier that's impossible to penetrate without setting off the 80 dB alarm!
Easily Protect an area from anyone going there without you knowing about it. You can even use it to announce visitors coming to your door!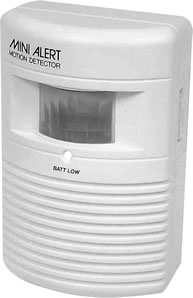 This motion sensor alarm sounds an 80 dB alarm whenever someone comes within the range of the monitored zone. Perfect for setting up a perimeter defense alert.
- The zone detection coverage is 80 degrees horizontally out to 8 meters and 20 degrees vertically.
A 30-second delay allows you to move out of the way before the alarm or chime becomes activated.
Infrared Motion Sensor
Alarm Mode
It works by means of Passive Infrared technology which detects a moving human body within a range of 8 meters x 80 degrees.

The alarm sounds automatically when anybody approaches the detected zone.

20-degree vertical coverage allows you to position the alarm so pets will not set off the alarm.

A siren will sound for one minute then shut off automatically and reset itself.
Visitor Chime Mode:
A pleasant "Ding Dong" melody sounds automatically to greet your visitor when they approach the detected zone.
Uses 3 "AA" batteries, not included. The LED indicator on the face of the infrared sensor alarm lights up when batteries are low and need replacing.
WALL MOUNTABLE
To Install:
Mount the adjustable angle wall mount bracket in the desired location with screw and screw anchor (provided).

Adjust the Mini Alert alarm to the desired detection direction and hold it in position by tightening the screw at the bracket.
This infrared motion detector alarm works great for announcing visitors to your home or to protect certain areas.
The loud, motion-activated alarm alerts you whenever someone breaks into the detection zone. Use at home or use at the office.