Heart Attack Self Defense Keychain
Introducing the Heart Attack Self Defense Keychain: Your Ultimate Self-Defense Companion!
Are you tired of feeling vulnerable and defenseless? Do you want a simple yet effective tool to empower yourself and take control of your safety? Look no further than the Heart Attack Key Chain Weapon – your new ally in personal protection!
Confidence in the Palm of Your Hand:
With the Heart Attack Key Chain, you'll never have to feel powerless again. This compact 3.5-inch heart shaped self-defense knife is crafted from durable ABS plastic, making it lightweight yet incredibly sturdy. It fits snugly on your keychain, ensuring you have immediate access to it whenever you need it most.
Discreet Protection on the Go:
Safety shouldn't come at the cost of inconvenience. The Heart Attack Defense Keychain's compact size lets you carry it discreetly in your pockets, purse, or bag without attracting unwanted attention. This inconspicuous and stylish addition to your keychain will prepare you to face any potential threat.
Your Safety is Priority:
Designed for simplicity and ease of use, the Heart Attack Key Chain requires no special training or complicated instructions. When danger strikes, just place it between your fingers and let your instincts take over. Punch your attacker more effectively than using your keys. Feel the confidence and empowerment surge through you as you're ready to fight back and protect yourself.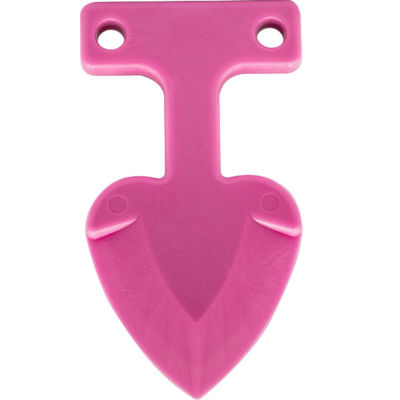 Strong Grip, Unwavering Confidence:
We understand that in crucial moments, every second counts. That's why the Heart Attack Key Chain is engineered to provide a secure and firm grip, ensuring it won't slip even during the most intense situations. You can trust in its reliability and performance, giving you the peace of mind you deserve.
Your Style, Your Choice:
The Heart Attack Key Chain is not only functional but also a stylish accessory. Available in three chic colors – Black, Pink, and Purple – you can choose the one that suits your personality and taste. It's the perfect complement to your everyday style while doubling as a powerful tool for your safety.
Don't Be a Victim – Empower Yourself Today:
There's no reason to wait for the unexpected to happen. Take control of your safety and be prepared with the Heart Attack Key Chain. Whether you're walking alone at night, in a crowded area, or want the confidence to face the world, this brass knuckle type self-defense tool will be your faithful companion.
Get Your Heart Attack Key Chain Now:
Don't let fear hold you back any longer. Embrace empowerment and safeguard your well-being with the Heart Attack Key Chain – the self-defense tool that's affordable, compact, and easy to use. Order yours now and reclaim the confidence to live life on your terms!
Remember, your safety is paramount, and the Heart Attack Key Chain is here to help you face the world fearlessly. Take a stand against vulnerability and equip yourself with this powerful tool. Your safety, your choice – choose empowerment with the Heart Attack Key Chain today!
Features:
Compact size, fits in palm of hand. Easily fits in pockets and purses.




Key ring included




Made of durable ABS plastic




Available in 3 colors: Black, Pink and Purple




Dimensions: 3 1/2"x2"