BioHazard Cord Wrapped Throwing Knives
The set comes in your choice of color: red, green, or orange/gold, and each knife is 9 inches long. The knives are made from 440 stainless steel, a durable and corrosion-resistant material commonly used in knife-making. These knives are described as great for beginners to intermediate throwers.
The set also includes a sheath pouch for safe and convenient storage and transport of the knives. It's important to always handle throwing knives carefully and follow proper safety guidelines when practicing throwing techniques.
2 Piece Cord Wrapped Throwing Knife Set - BioHazard
Choose Your Color from Red, Green or Orange/Gold Color.
9" Length, 2 Piece Set, made from 440 stainless steel, great beginner to intermediate throwing knife. Includes sheath pouch for knives.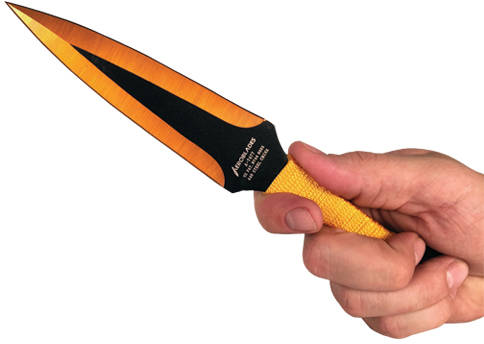 In addition to the features already mentioned, there are a few other things worth noting about these throwing knives.
First, the cord-wrapped handle is not just for decoration - it also provides a secure grip for the user. This can be important when practicing throwing techniques, as a slippery handle could lead to an inaccurate throw or even injury.
Second, while these knives are described as beginner to intermediate level, it's important to note that throwing knives can be dangerous if not used properly. Always make sure to practice in a safe and appropriate location, with proper safety gear and under the supervision of a qualified instructor if possible.
Finally, 440 stainless steel is a good material choice for throwing knives, as it is durable and resistant to corrosion.
Standard Size for Throwing Knives
A 9-inch length is a fairly standard size for throwing knives and can work well for both beginners and more experienced throwers. It's long enough to provide a good amount of weight and stability in flight while also being compact enough to allow for more precise throwing.
That being said, the ideal length for a throwing knife can vary depending on the user's skill level, throwing style, and personal preferences. Some people may prefer shorter or longer blades depending on their individual needs. Ultimately, it's a matter of finding what works best for you through experimentation and practice.