College Guy Safety Kit
Staying safe is universal. Guys need to remain just as vigilant as gals. Keeping the right tools around will help you achieve that goal. Believe it or not, statistics show that college men are almost as likely to be victims of physical assault as women are while on campus. Whether in the dorm or around campus, staying safe is made easier with the college guy safety kit.
Most people scoff at the notion that a young male in college could need protection against intruders or attackers, but it is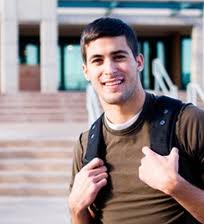 true. While the overwhelming majority of attacks take place against female students in that age group, the fact remains that male students were two times more likely to be the victim of a physical assault, and students were more likely to be the victim of theft than non-students.
While most colleges work hard to provide a secure campus, there still remain many gaps in dorm rooms, parking lots, and other places where a male student could be victimized.
Campus Safety for Guys
Campus security issues remain a hotly contested debate among those who want to know how to lower the crime rates among and against students. Unfortunately, even though many statistics about campus crime are available, the numbers may not reflect the students who live off-campus and make a separate report or don't make a report at all. If you want to make your residence or yourself more secure, or you have a child headed off to college, you need to provide an added measure of protection to keep them and their belongings safe no matter what college they may be enrolled in.
The College Guy Safety Kit is just a common sense kit to have. Not only does it have a cleverly disguised safe that looks like a book, but it also includes pepper spray with a how-to guide, a stun gun, and a door brace. Use the book safe to hide valuables, and tuck it away with your other books. Installing the door brace provides security against theft, as it will prevent the door from being opened from the outside. The pepper spray will keep any would-be assailant sorry they ever met you, and the stun gun has electrifying volts of power to drop a grown man to their knees.
Our College Guy Safety Kit is affordable and helps you hang onto your property, no matter how modest. Money is hard to come by in college to replace important things, or even having to pay a medical bill...so keep yourself and your things safe using all the items in this package.
Parents can sleep easier at night knowing their college kid is safe, and students can keep their property where it belongs instead of the local pawn shop. Never leave safety to chance – you might regret it.
It's not just the girls that need protection.
This college essentials kit contains a door brace, a powerful stun gun, a 4-ounce pepper spray with holster, a pepper spray guide, and a hidden book safe.
All of these items help provide security. One thing you used to be able to count on was the safety and security of your own home. Not anymore! You never know what you can come up against in real life. Not everyone was raised as good as you and some people are just plain bullies.
College Guy Safety Kit - Make your stand and be able to defend yourself!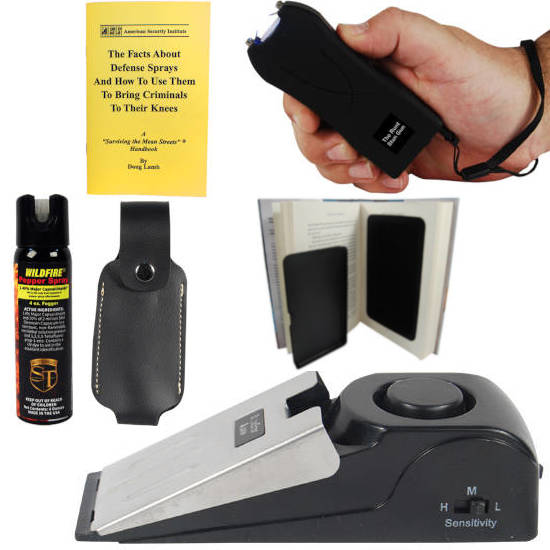 Always brace your door at night. The extra security this door brace brings will help you sleep better. And you need all the sleep you can get with all the girl watching...uh, I mean studying and stress you're under.
The 80,000,000 volt stun gun is rechargeable so you never need batteries. This powerful pack of protection will stop someone in their tracks and give you time to get away. Holster included.
Wildfire Pepper Spray will make a grown man cry...literally. The tears will flow and he won't be able to see or even breathe that well. This is your first line of defense and is usually all you need. If it still gets up close and personal, stun the hell out of 'em. Then call campus security or the police. Holster included.
The pepper spray guide contains valuable information about protecting yourself. How to deal with multiple attackers with pepper spray and much more.
You can hide money and any other valuables in the book safe. A thief doesn't want to crack the books when trying to rob you.
Some states have restrictions on Stun Devices & Pepper Sprays. Check if your state has restrictions here: Shipping Restrictions