Dog Repellent Spray
Dog Repellent Spray contains approximately 0.75 fluid ounces of pepper based solution. This is enough for approximately 10, one second bursts. If you intend to rely upon your MUZZLE (tm) unit as a defense, you should test the functioning of your unit periodically by discharging one or two bursts outdoors in a safe area away from all persons and animals in the vicinity. Take care that you do not exhaust the contents of the unit you intend to rely upon.
Dog Repellent Spray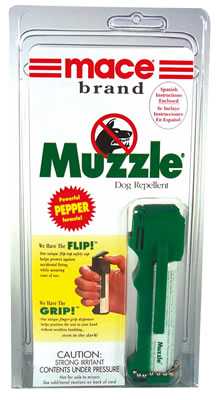 Your best protection is to avoid potentially dangerous situations if you can. Always be aware of your environment and any dogs that may be in the vicinity.
When you sense that you are in a potentially dangerous situation, carry your MUZZLE (tm) unit in your hand. Slip your thumb under the safety cover and be ready to spray the canine by pressing down on the red button with your thumb.
Notice how the MUZZLE (tm) unit is shaped so that you can tell by the feel how it should be held. The safety cover will prevent access to the red button if you hold the unit backward. The shape of your MUZZLE (tm) unit will enable you to know, even in the dark or in a stressful situation, when the device is properly oriented and ready for use.
If you have to use your MUZZLE (tm) unit, point and spray short bursts at the nose, mouth, and eyes of the aggressive dog, allowing you an opportunity to move away from the area and out of harm's way.
The MUZZLE (tm) unit is designed to be actuated in short 1/2 second busts aimed at the dog's mouth. When actuated, a stream of the pepper based formulation will be released from the unit for a distance of approximately 10-12 feet (more or less, depending upon the pressure in the unit and wind conditions). Avoid spraying directly into the wind. Use the unit when it is in the upright position, otherwise it may not function properly then or afterwards.
MUZZLE (tm) is an organic pepper-based compound which causes extreme irritation if applied to a dog's nose, eyes, or mouth. The effects begin within a few seconds of contact causing a dog to cower and retreat. It is normal for most dogs to roll on the ground and rub their eyes in an attempt to remove the spray from the facial area. The painful, irritating effects usually wear off within minutes, leaving the dog unharmed.
Back to Dog Repellent Pepper Spray.