Your Motion Sensor Auto Dialer Will Call You!
Often times, crime happens when no one is around to notice and the crooks are long gone by the time anyone gets back. Now, you can protect your home or office with the AUTO DIALER SECURITY and SAFETY ALARM. This auto dialer is a step up from our IR alarm.
Once it senses movement, it will call you. You can have a siren go off so the person knows they tripped an alarm. Or you can have it in silent mode where the burglar wll not know that the unit is calling you. You can call the police to let them know what's going on and to check out your house.
The extensive features on this unit will amaze you! Read on.
The Auto Dialer is a unique passive infrared system that monitors motion in an area you select. When the unit is ARMED, the motion detector watches the protected area. Once movement is detected, a 105db security alarm will sound and the unit will call up to 5 preset telephone numbers selected by you. You will hear the message and know that your alarm has been tripped.
Yes, this auto dialer will call your own cell phone or any other phone number you tell it to.
The system can also be used in Chime mode, such as in a store, where a chime will alert you when motion is detected (such as a customer coming in).
It's easy to set-up. Install a 9 volt battery, connect the AC adaptor and telephone line (included). Then mount the Auto Dialer to the desired location 5-6 feet above the floor. There is a 110 degree left and right field of view and sees out 6-8 meters.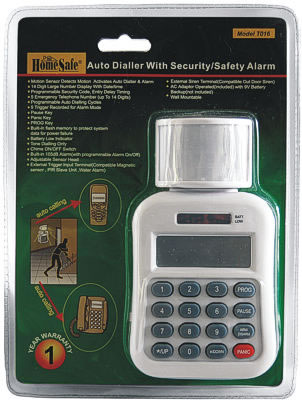 Requires a land line
Motion Sensor Detects Motion and Activates Auto Dialer
14 Digit Large Number Display with Date/Time
Programmable Security Code, Entry Delay Timing
5 Emergency Telephone Numbers (Up to 14 Digits)

Pause Key / Panic Key / PROG Key

Battery Low Indicator (Shown in LCD)
Tone Dialing Only
Alarm/Door Chime Switch
Built-In 105dB Alarm (With Programmable Alarm On/Off)
Adjustable Sensor Head
Test Mode Function
AC Adaptor Operated (Included) With 9-volt Battery Backup (not included)
Wall Mountable
ITEM CODE: AUTODIALER
An autodialer is a new step in home safety technology. It will save you money and the bother of having to install large, wired systems that are difficult to understand.
If you're ever worried about taking a long vacation, or simply going on a short trip over the weekend, let the Auto Dialer take control.
Here's how it works. The motion detector protects an area designated by you. Once the unit is armed, it will study this area. If an intruder crosses the selected area, the 105db alarm will sound. When the alarm sounds, up to five telephone numbers programmed in the unit will be dialed.
The extensive features on this unit will amaze you. This security alarm contains a built-in motion sensor, the ability to store up to 5 programmable telephone numbers to dial in case of a break-in, a built-in flash memory that protects system data in case of a power failure, low battery indicator, chime mode (can be used for stores to notify you that a customer has entered), built-in 105db alarm, an external siren terminal that is compatible with an out door siren, an AC adapter, telephone line, adjustable head, and is wall mountable.
Requires only a 9v battery (for backup purposes) and a landline.
A great advantage with this item is the fact that it has several different home alarms all based in one unit at one price. This saves you a great deal of time looking for a security system, and trying to have one installed.
What exactly is the range of the Auto Dialer? It has a 110-degree left and right field of view, and sees out 6-8 meters, covering a large area.
Installation of this unit is a breeze. The detailed instructions and easy to use configuration will give you a breath of fresh air, allowing you to have confidence with the unit.
You no longer have to worry about hiring house sitters when the Auto Dialer is the constant guard over your home. Enjoy your vacation while your home is safely guarded. Dependable and easy to use, this safety alarm is a wise investment to the security of your home.
Instructions (autodialerinstructions.pdf, 1,789 Kb) [Download]
Shipping Deal


Receive FREE UPS Ground or US Mail shipping on all orders of $75.00 and up!
*US Residents only
Join Our Mailing List
We send out Specials and Discounts to those on our mailing list.
Your privacy is kept safe.