TASER Pulse Nylon Holster
TASER Pulse Nylon Holster w/ Retention Strap and Belt Clip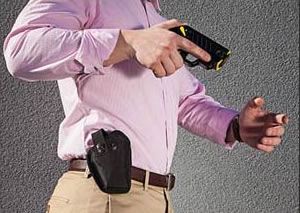 A more robust holster for carrying your Pulse. Snap strap keep it in place. Waistband clip keeps it on your side.
TASER Pulse Holster
Positions itself high on the waistband, you can easily conceal your Pulse with your jacket. Being able to hide your weapon so it's out of plain sight gives you an advantage.
If you don't want people to know you're armed, they won't know. This Pulse Holster is sturdy and gives you a solid side carry option. Your TASER device will remain right in place.
It balances comfort and functionality while providing easy access to your weapon and provides a snap closure for safety. Great for active lifestyles.
Do you need a TASER holster?
A holster is nothing more than just a container or storage device for your self defense weapon. In the absence of a holster, the TASER device will probably find a comfortable place in a bag or a pocket. While this could be good enough, it may not be practical in the long run.
In case an emergency does occur and physical attack is imminent, how soon can you get hold of your device, aim it and fire? A holster will not only keep your TASER Pulse in place, but it will also encourage you to wear it near your body where it will be easy to find and deploy. The few seconds it would take for you to rummage through your bag or dig into your pocket for a loose TASER device might be enough time for your attacker to hurt you. With a holster on your side, you'll be ready to defend yourself immediately.