Police Force Tactical Torch Stun Flashlight 17,000,000
Flashlights have come a long way, and the Police Force Tactical Torch is a testament to that evolution. No longer just a source of light, it's now your trusted companion for safety in an increasingly active and unpredictable world.
Illuminate and Protect:
As society ventures outdoors after dark, the need for personal safety grows. The Police Force Tactical Torch is your answer. At its core, it's a powerful flashlight boasting an astonishing 1200 lumens of brightness. But it doesn't stop there. When aimed at an assailant, this ultra-bright light can temporarily blind them, providing you with the advantage you need to immobilize them with the integrated stun gun.
Unmatched Stun Gun Power:
The heart of this device is its massive 17,000,000 stun gun, an intimidating and highly effective self-defense tool. Test-firing it into the air alone is often enough to stop an attacker. The electric current's intimidating sound and pulsations create an unmistakable deterrent. When it comes to direct contact, the effect is even more pronounced. The substantial 3-inch diameter of the head intensifies light output and maximizes the stun effectiveness with an extended distance between electrodes. With its 13-inch length, this stun flashlight ensures you maintain a safe distance from potential threats. From muscle contractions to loss of balance and muscle control, the assailant will be disoriented, giving you time to escape.
Quality Meets Durability:
Crafted from military-grade aluminum alloy, this stun flashlight is virtually indestructible, ensuring years of reliable protection. Its adjustable strap offers added convenience, while its 13-inch length keeps you safely distant from your attacker, even allowing you the option to strike.
Additional Features:
LED Flashlight: In addition to its self-defense capabilities, the Police Force Tactical Torch serves as a dependable light source, proving invaluable in various situations. 

The bright flashlight function has four different modes: High, Medium, Strobe, and SOS.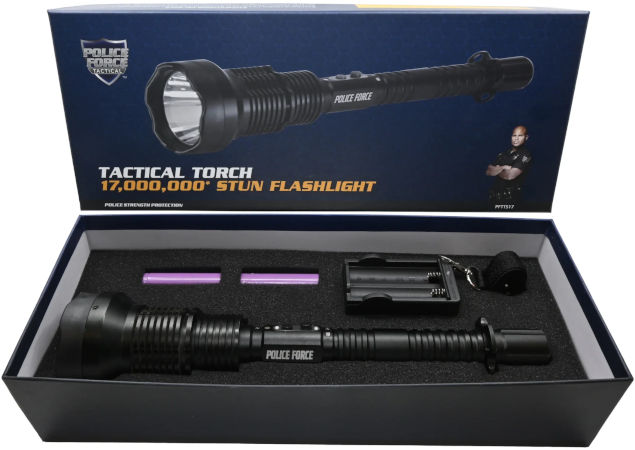 Contents:
Police Force Tactical Torch 17,000,000 Stun Flashlight

5 watt, T6 LED

Adjustable Carry Strap
2x 18650 Rechargeable Batteries
Wall Plug-In Battery Charger
Instructions
Invest in your personal safety and security with the Police Force Tactical Torch. Backed by a lifetime warranty, it's not just a device; it's your peace of mind. Whether you're out for a nightly dog walk or navigating unfamiliar territory, this is the dependable partner you can count on. Stay safe, stay prepared.