Stun Batons from Stun Master are Back
After being out of stock for quite a while, we've now received a shipment of the newly re-tooled and much improved Stun Master Stun Baton.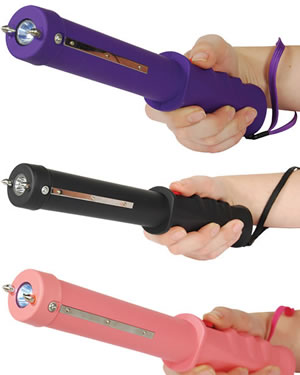 We listened to your suggestions and made some changes!
More Power? Check. 4.6mA and 12 Million Volts worth!
It is now rechargeable and includes a wrist strap with a disable pin. And, if someone tries to grab it from you, the metal strips down the sides will give them a shock to be remembered.
The newly rubberized grip makes it easy to carry and hold on to as well.
At 12 inches long, it's not too cumbersome and fits nicely on your side as you go for your walk.
We've had many people profess how effective these are when confronted with an aggressive dog.
Click: Stun Batons