Lubricating Oil Small Hidden Safe
Another great way to hide valuables...keep this small hidden safe in your garage or workshop and hide it right in plain sight! This is a real can of lubricating oil that is used to loosen nuts and bolts that are stuck together through rust. Although this does not contain any real product in it, you can be sure that a thief isn't going to think your can of lubricating oil is of any value.
Place those things near and dear to your heart inside and let them sit on the workbench shelf knowing they won't be stolen.
Lubricant Diversion Safe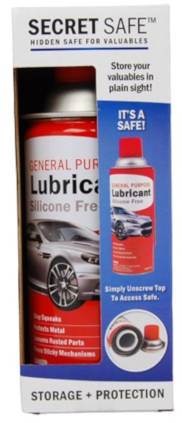 Interior Dimensions of Lubricant Safe: 1 3/8" x 4"
Why is a small home safe secure when I can pick it up?
Thieves are in a hurry.  They generally know what they came for and have an idea of where most people keep valuable things. Creating a small safe out of an ordinary household product, food item, or something that looks like furniture or a cleaning supply is not what the burglar is looking for or is after.
To them, a can of lubricating oil is just that. Not one of the many hidden safe ideas for home used for small items of value.
That's why they can be placed in plain sight and not be found.