Sleepwalking Alarm
Wakes up the Sleepwalker Immediately!
Caring for someone who sleepwalks can be worrisome. You never know what they're going to do or where they'll end up. It can be dangerous for themselves or others.
One possible solution to stopping the sleepwalking is to wake them up as soon as they try to leave the room. You can do this by hanging a door knob alarm on the outside of the bedroom so that once they grab the knob, the alarm will go off.
This sleepwalker product will wake a sleeping person up as soon as they touch the door knob. Even before they leave the room, 120 decibels will wake them up.
Hang on the door and if the sleep walker grabs the door knob, you will know it. It is designed to go off as soon as there is a vibration on the knob (such as when someone grabs it in order to open it.)
Alarm for Sleepwalkers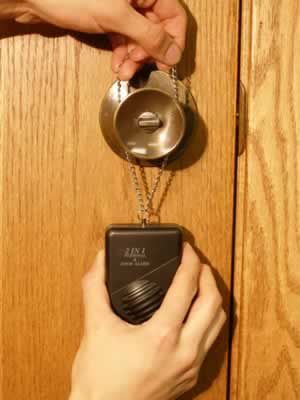 "When our daughter was around 3 and 4 years old, we would sometimes find her the next morning in all sorts of places. Under the kitchen table, next to the couch, between the bed and the wall - in a different room! With this alarm in place, we would have been able to wake up with her and put her back in her comfortable bed."
As soon as your sleepwalker touches the door knob, this loud alarm will instantly wake them up!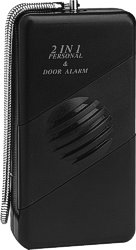 "Sleepwalking (also called somnambulism or noctambulism ) is a parasomnia or a sleep disorder where the affected person engages in activities that are normally associated with wakefulness while he or she is asleep or in a sleep-like state."
No matter what the time on the clock says or how light or dark it is outside the window, those with this condition can walk in their sleep.
You can monitor the doors with an infrared motion sensor or just use this instant activation waker-upper!
Doctors recommend one of these for patients who sleepwalk at night. This will wake you or a caregiver as soon as an episode occurs. If you have children or someone else in your house who does this, one of these alarms can give you the peace of mind you want.
Sounds instantly whenever someone touches the bedroom door knob

120db volume level

No wiring needed

Installs in seconds

Operates on all metal door knobs

Takes one 9-volt battery
An inexpensive bedroom sleepwalking alarm keeps you, your loved ones, or your patient safe!