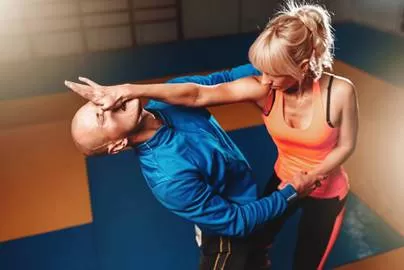 Essential Self-Defense and Safety Tips for Women Living Alone
Despite the fact that women seem to be more self-defense savvy than ever, the violence against them continues to be a huge societal problem. According to the Bureau of Justice Statistics, the prevalence of violent crimes against women is rising, with about 1.11 percent of women reporting one or more violent acts in the past six months. That means that about 1.5 million women surveyed experienced some violent act in the months prior to being surveyed.
Safety Tips for Women Living Alone
Though it doesn't necessarily make you more vulnerable to an attack than your friends with roommates, living alone can certainly feel more dangerous. The best way to ease your mind and keep yourself safe from a potential attacker is to be prepared for a potentially dangerous situation, but not to dwell on it. Here are a few tips for how to do this:
Don't Live Your Life in Fear – When we talk about violence against women, especially women who live alone, it's easy to list off tons of scary and shocking statistics. When faced with the data, it's easy to see why women report a much higher fear of crime than men do. Unsurprisingly, living alone also contributes to higher fear levels. But it's important to keep yourself from falling into a state of debilitating fear, as this can seriously diminish your quality of life and possibly even make you more vulnerable to an attack. Your best bet is to have a strong plan of self-defense in your arsenal, but not to dwell on the possibility that an incident could occur at some point in the future.
Take a Self-Defense Class – It's undeniable: One of the very best ways to keep yourself safe is to know how to defend yourself from a physical attack. Unsurprisingly, studies show that women who participate in self-defense training are less likely to experience sexual assault, with some research indicating that women who complete such training are as much as 60 percent less likely to be raped. There is also some research showing that women who complete self-defense classes are more likely to report attempted rape. Thankfully, there are self-defense academies in all 50 states and throughout the world, with options for beginners or those looking to advance their skills.
Stay Armed – By armed, we don't necessarily mean having firearms stashed throughout your house or apartment (though that may be an option if you're willing to undergo firearms training). There is a wide range of non-lethal self-defense weapons out there to help you ward off a potential perpetrator, including several that don't require obtaining a special certificate or undergoing expansive training. We recommend that women living alone should own some combination of the following non-lethal tools: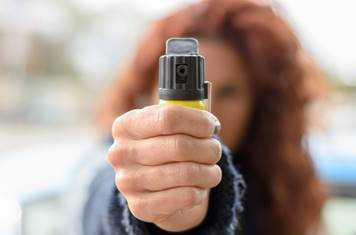 Pepper Spray – Especially ideal for those women who like to take long walks or run errands after the sun goes down, pepper spray is the perfect portable companion for keeping threats at bay. The great thing about this self-defense weapon is that it takes very little training and almost anyone can use it. Plus, you can keep your mace or pepper spray on your keychain, purse, or pocket for easy deployment.
A Stun Gun – Stun guns are small handheld devices that deliver several million volts of electrical shock to your target. Unlike TASER devices, stun guns must come into direct contact with the target in order to work, but they're much easier to use. There are affordable stun guns available for any budget and any user, with everything from mini styles you can wear as a ring all the way up to uber-threatening stun gun batons that would scare off any offender with a single look.
A Keychain Weapon – Another great on-the-go perp deterrent, the keychain weapon is equipped with sharp components that can bring a potentially devastating defense when delivered with a self-defense punch. Taking a self-defense course will help you learn how to use these keychains to their greatest potential, but almost anyone can figure out how to use them as a protective tool in a split second.
Install Security Cameras – These days, there are dozens of different ways to capture events that occur outside your home, including options that go far beyond the typical monthly fee-based home security systems. With options like Wi-Fi-enabled video doorbells and flood cams, you can keep an eye on the perimeter of your home even when you're on vacation. With front door cameras, you don't even have to answer the door to communicate with visitors (and we recommend not answering it at all if possible), and every time there's activity at your door, these devices capture a recording so you always know what's going on and have a record of it.
Never Indicate Vulnerability – Perpetrators pick their targets based on vulnerability. If their goal is to rob your house, they'll look for signs that you're not home. If they want to impart physical violence on you, they'll make attempts at times when you're less able to fight back or unlikely to launch a viable defense. Here are some things to keep in mind to prevent an attacker from finding you or your property in a weak position that's easily exploited:
Be smart about what you post on social media and don't let anyone you barely know or don't trust see when you're out of town.

Leave lights on when you leave the house and consider installing light timers to make it seem like someone's home. Motion cameras are also great for the driveway or front porch.

Your mailbox or packages piling up on the front stoop can indicate if you're out of town, too. Have someone pick up the mail and bring it inside if you're not home to get it each day.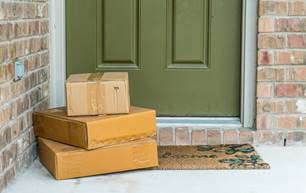 Stay in Touch with Friends
These days, living alone doesn't have to mean being isolated. In fact, with the internet and social media, it feels like more of a challenge to isolate ourselves than it does to stay in constant communication with our friends and family. Make sure those close to you are aware of your general schedule so they'll be on high alert if something goes wrong. As with anything in life, preparation is key to a successful outcome, including safety while living alone.