Authentic Throwing Stars
The JL-SS3 is another one of our real throwing stars. Made of stainless steel metal, it has 6 points and flies straight as an arrow. Point to point, this authentic throwing star is about 4 inches across.
The included carrying case has a snap closure and an integrated loop so it can be carried on your belt.
A classic shuriken design, this Japanese throwing star is a must-have item in your ninja arsenal. Each point resembles a sharp arrowhead.
This is not a toy or a replica, but the genuine article. A unique and cool gift item that you can also hang on your wall for a decorative display.
The words, "Kohga Ninja" appear on the face of this martial arts throwing star.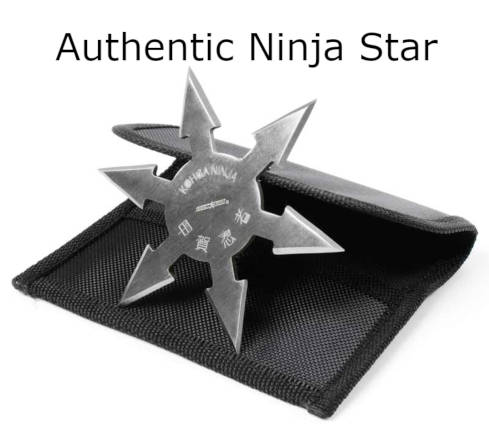 Real Ninja Stars
You'll spend hours of fun tossing this into a target board or even just a tree. And you'll be deadly accurate in no time at all. Become a real ninja. Order your real throwing stars today and look forward to practicing a fun and history-rich art. We have many other ninja stars for sale that you can choose from.
Weight: Approximately 1.5 ounces