Push Knife
Beautiful and functional fixed blade knife that has a great look and feel. Push daggers have been around for ages throughout history. 
This modern version is not a lightweight replica. It boasts a 5-millimeter blade thickness that exudes quality. The stonewash finish sets the knife apart with its inherent masterful aesthetics.
The thick rubberized and texturized handle gives you a firm grip so the punch dagger won't slip around. Fits snugly in your boot if used as a boot knife.
Includes a blood groove and three holes through the blade.
Sheath retains the punch blade and includes a snap closure to prevent it from getting loose.
This MTech creation is sure to be one of your favorites!
Mini Push Dagger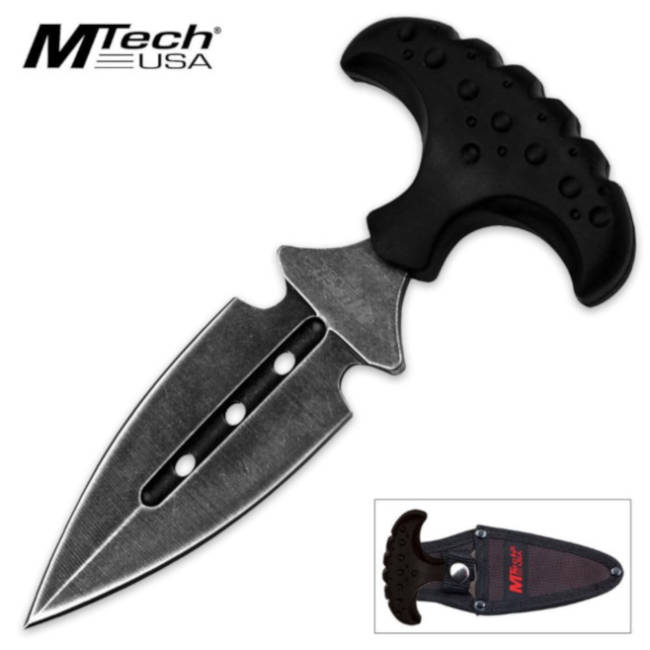 Features:
Fixed Blade Knife

5.47 Inch Overall Length

3.7 Inch Stone Wash Silver Finished Blade

5MM Thick Plain Dual Blade

19MM Thick Black Rubberized Handle

Includes Nylon Sheath with Stainless Steel Clip
Where does the push dagger knife come from?
The push dagger is a type of knife that has a short, sharp blade and a handle that is designed to be held in the palm of the hand and pushed into an opponent. The blade is typically less than four inches in length, and the handle is often made of wood, bone, or metal.
It is a very old type of weapon, dating back to ancient times. The first known examples come from the Bronze Age, when they were used by the Minoans of Crete. 
Push daggers were also used in combat by the ancient Greeks and Romans. The push dagger knife was used in the Middle East, and it is thought to have been used by the Assassins, a group of medieval Islamic warriors, known for their fighting skills.
These punch daggers are popular among law enforcement and military personnel for a variety of situations.
Push daggers are also known as T-handle knives, fist knives, and push knives. The point or purpose of the push dagger is its T-shaped handle, which allows for a tight grip and easy maneuverability. It has an edge on each side of the blades.
You can wear this as a concealed neck knife using a cord or a chain and be able to pull it out easily in a self defense fight. Or keep it on your belt with the included scabbard holster.
Check out this boot knife for another concealed carry blade.
How is a push dagger used?
A push dagger is a small, pointed knife that is designed to be held in the hand and used as an easy-to-carry close-quarters stabbing weapon. The blade is usually less than four inches long, and the handle is designed to fit snugly in the palm of the hand. The punch knife gets its name from the fact that it is typically used by pushing the blade into the target, rather than by slashing or chopping.
Elmer Rouse Jr
Verified purchase