Public Defender Stun Flashlight
The Public Defender 15,000,000 Stun Flashlight offers many features found in high-end flashlights but adds a stun gun for self-defense. Made of military-grade aluminum alloy, it incorporates an XP-G2 Cree LED to produce 298 lumens. This is one of the brightest flashlights and most powerful stun guns you can buy.
High-End Stun Flashlight
One of the best features of this Police Force model is that it allows the stun gun to be used while the flashlight is on. With most flashlight stun guns on the market today, you need to turn off the flashlight before the stun gun will work. Because in a self-defense situation, every second counts, the Public Defender 15,000,000 Stun Flashlight eliminates this extra step saving you valuable time.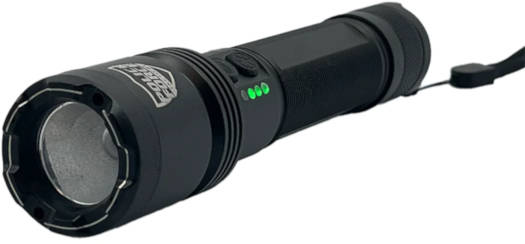 It has four flashlight modes and a heavy-duty nylon holster with a belt loop. The battery status indicator clearly displays the available power to ensure that the battery is fully charged when you need it the most. It is made of the highest quality components and comes with a lifetime warranty.
With the Public Defender Stun Flashlight, police strength protection is now also available to civilians. It features easy operation, micro-USB charging, a max runtime of 28 hours (low power mode), is powered by a rechargeable 18650 Li-ion battery, and has a power level indicator.
Features:
Super-bright 298 lumens** XP-G2 CREE LED
Can stun while the Flashlight is on
Four light modes (low, medium, high, and strobe)
Micro USB charging
Max runtime 28 hours
Powered by rechargeable 18650 Li-ion battery
Battery status indicator lights
Lifetime Warranty
Contents:
Police Force Public Defender 15,000,000 Stun Flashlight
Nylon Holster with Belt Loop
USB Charging Cable
User Manual