Your order is processed and shipped on the very same or next business day. You will receive a tracking number once your order ships letting you track your package on its way to you.
For orders $50 and above
Flat rate of $4.99 - $7.99 otherwise
Most orders ship US Mail
USPS and UPS Deliverabilty
Description
Ninja Keychain Kubotan is a yawara with extra spikes extending from it. This handheld weapon has a keychain ring for your keys so you will always have it with you. Made of metal.
Kubotans are used as defensive weapons and can incapacitate an attacker. Slamming the point of the ninja kubotan into an attacker's bony area such as a wrist or pressing into a pressure point will cause immediate pain to them. With this nasty model, the spikes will cause severe pain and possible tissue damage when used as an extension of your fist. Use with great caution and consideration but if your life is in danger, all bets are off.
If getting mugged or you're bout to be rumbled, your safety is your first priority. You must protect yourself. You fight like you're fighting for your life and you live to tell about it. Let them worry about their injuries later.
Self Defense Spike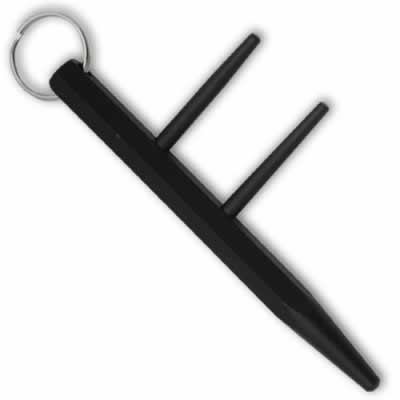 Ninja Keychain Kubotan Self Defense Weapon
A ninja kubotan is a portable self defense weapon that you can attach to a keychain and keep with you at all times. It is made of metal and has two spikes for your fingers.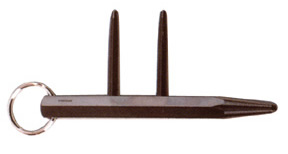 Reviews