Ninja Foot Spikes - Ashiko
Can you feel your inner ninja coming out? Use these foot spikes in conjunction with the climbing hand claws to scurry your way up a tree - ninja style!
Ninja Foot Claws
By placing the ninja foot spikes over your footgear and securing them with the laces, you will be able to dig the front balls of your feet into the tree and use it just like you are taking a step up. Adjust your foot angle to give the best grip for how you climb. A side-facing position also works very well.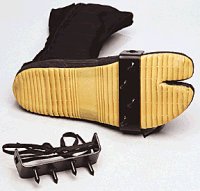 These black colored ninja foot claws are constructed of hardened steel. They are approximately 4.25 inches wide and the height is about 2 inches. Comes with adjustable nylon laces that can wrap around and tie to secure the foot climbing spikes to your shoes or tabi boots.
The foot spikes are sold as a pair. Two are included - one for each foot.
Ninja Foot Spikes Features:
Hardened Black Steel Construction

Four Sharp Points on Bottom for Grip

Approximate Dimensions: 4.25" by 2"

Securable Nylon Laces

Weight: Approximately 5 oz. each

Set Sold in Pairs
Ninja Climbing Foot Spikes
Called Ashiko in Japanese and originating with the Ninja, foot climbing spikes have been used for centuries in one form or another. Climb the Way of the Ninja with your own set of spikes.