Tactical Q5 Mini LED Flashlight
Super Bright Mini LED FLASHLIGHT
This mini flashlight will be with you wherever you go because it's so small, it fits anywhere. There are always times when you need a light and this powerful beam will do the job without getting in the way. Made of high-quality aircraft grade aluminum.
These flashlights are engineered to meet the demands of police, military, and security professionals worldwide and are now available to civilians. Not only will the flashlight illuminate an area, but it can also protect you. When shined in the eyes of an attacker, the ultra-bright light can have a temporary blinding effect, making it easy for you to get away.
It has a slide zoom that allows you to adjust the size of the light. The belt clip (included) makes it easy to carry. At about 3 1/2 inches long, this compact tactical LED light boasts features and brightness of models twice its size.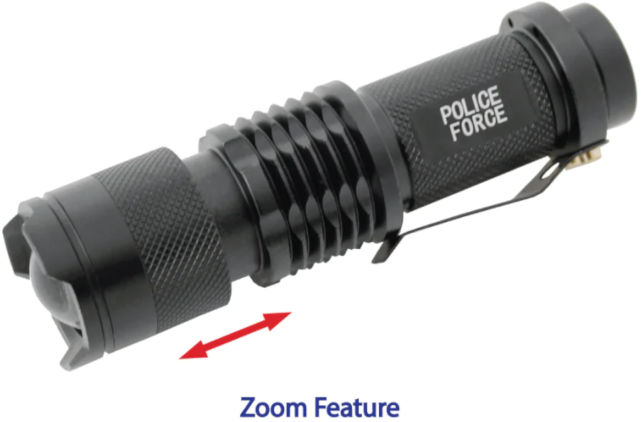 It's perfect for carrying in your car, pocket, or purse, so you'll never be left in the dark again!
Requires a 14500 Lithium-Ion battery (included) or 1 AA battery (not included).
220 lumens of blinding intensity, easily zoomable to pinpoint the beam where you need it!
Defense Disorientation
Shine the strobe directly in someone's eyes if threatened. The high intensity light will temporarily blind them, allowing you to make an escape.
High-quality aircraft-grade aluminum body with belt/pocket clip on the side.
3 1/2 inches long.
Includes a 14500 Lithium rechargeable battery with charger.
Keep in your glove compartment, boat, purse, nightstand, door entrance, emergency kit.
Mini LED Flashlight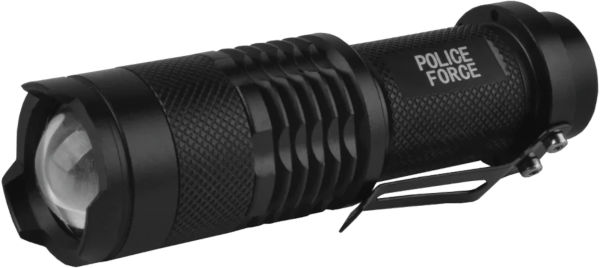 Features:
Military Grade Aluminum Alloy
Weather Proof
Rechargeable Li-ion Battery
220 Lumens LED light
145-meter LED distance
100,000 hours LED light lifespan
1-meter drop rating
Contents:
Tactical Q5 LED Flashlight
14500 Lithium-Ion battery
You find these in many places, such as auto stores, department stores at the checkout aisle, and countertops everywhere. But this one is not like those. Those flimsy versions are very cheaply made knock-offs that don't last that long and break easily. Our model has a solid metal construction and is quite durable.
You can feel the difference when holding it and won't be afraid to drop it, thinking it could break. This won't! You can keep several of these around the house for emergencies. In the junk drawer, on your nightstand, on top of the refrigerator, or anywhere else.