Lipstick Alarm
The pull alarm gives you an immediate call for help when you need it most. The alarm tube is activated just by giving a quick pull on the case top. This is a perfect alarm for a women's purse.
According to the International Institute of Criminology, "68% of criminals would flee a crime scene empty-handed as soon as they hear an alarm." It makes sense since bad guys don't want to get caught.  A panic alarm going off will certainly increase their chances of being seen and identified by others.
Your security is now as close as your purse!
Lipstick Personal Alarm - Simple Pull to Activate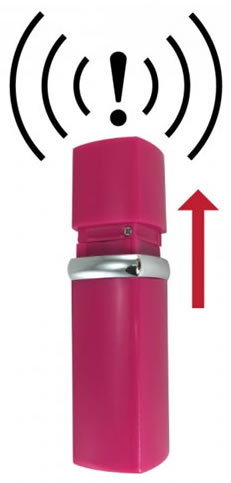 The Lipstick Alarm looks just like a stylish tube of lipstick but boasts a 90dB alarm loud enough to be heard by anyone nearby. Just pull the top up and the powerful alarm will sound.
This stylish self-defense product is ideal for students and women on the go. Weighing next to nothing, anyone can carry this. It won't take up much room in your purse or in your pocket even.
Pull Alarm Features:
Scare Off an Attacker and Summon Help: The 90dB alarm is loud enough to be heard by anyone nearby.
Easy to Operate: Simply lift the top to sound the alert.
Convenient: Looks just like a tube of lipstick, so it's easy to carry in the purse or hand.
Ready to go: Comes with three LR44 button cell batteries already installed.
Warranty: 1 year
Attack Alarm
Attack alarms work by making a loud noise and bringing attention to your situation. This is the last thing a criminal wants! Many police departments recommend carrying a loud sound device for added protection. 
We recommend the lipstick alarm along with a personal pepper spray you can use to further dissuade your attacker from continuing.
See our blog post: Are self defense alarms effective?
This stylish personal lipstick alarm is ideal for students, joggers, senior citizens, night shift workers, and anyone else you can think of. Put it in your purse, pocket or book bag.